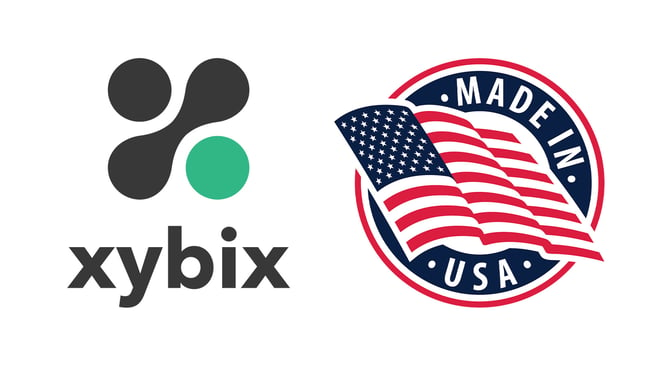 Around the Fourth of July, I start to get sentimental about our country and our family business. The US government works to protect us— with the best example by instituting 911 emergency dispatch back in 1968. Xybix like to do our small part to protect dispatchers and other mission-critical workers with ergonomic sit-to-stand workstations since 1991.
I'm proud of the stable and fulfilling jobs we give our employees, and I'm proud of the progress we've made in developing unique new features and expanding our business into healthcare, transportation, utilities, security, and other areas. I believe our success comes from the great people we hire and their focus on our core values of working as one, innovation, serving others, exceeding expectations, and enjoying life. But I know in my heart that our company would not be successful without American spirit.
So, in that spirit, let's look at why buying products that are Made in the USA—from companies like Xybix—is so important.
Benefits for Your Project
In the technical furniture industry, most projects are custom-made, so they perfectly fit the needs of the specific room requirements. Working with a company in the good ol' USA benefits your project and peace of mind in many ways.
Pride:

Buying Made in the USA products makes you feel good, offering a sense of

pride and satisfaction

.

Higher Quality:

Made in the USA products generally adhere to higher quality standards. (In fact, Xybix workstations are

independently tested

to comply with the Business and Institutional Manufacturers Association, or

BIFMA

, standards.)

Quicker Lead Time:

When products are Made in the USA, the lead time for manufacturing, delivering, and installing will be shorter. During the pandemic, companies that relied too much on foreign components were hit with extremely long lead times. By keeping as many of our parts local or US made, Xybix avoided these issues.

Better Service:

With American manufacturers, you may have better access to professional designers and customer service agents. (Xybix provides professional

interior design services

free of charge, the best

warranty

in the industry, and 24/7 access to live

customer service

.)

Efficient and Cost-Effective Shipping:

Your organization will save time and money on shipping costs if your workstations are Made in the USA. With Xybix situated right in the middle of the country, delivery is easy to nearly everywhere.
Benefits for Your Community
Buying Made in the USA products has benefits for all of us—for today and tomorrow. When you buy from U.S. manufacturers, you can be sure they:
Adhere to strict labor and safety standards to protect workers.

Follow environmental regulations to help ensure healthier water and air. Transportation within the mainland is more sustainable as well.

Pay wages to American workers, whose spending contributes to the U.S. economy. This gives you a small role in sculpting the American dream for these employees.

Pay taxes on payroll, income, property, purchasing, and more that support your community—including funding government services such as 911 dispatch, police, fire, and guaranteed emergency room service.

Make future business investments that support jobs for future generations.
Opting for Made in the USA products clearly benefits you, the economy, the environment, and our communities. To see a safe, high-tech, American manufacturer in action, take a look at the Xybix manufacturing facility.
If you have any questions about manufacturing, benefits of things Made in the USA, or Xybix products in general, reach out any time. We're here to help!