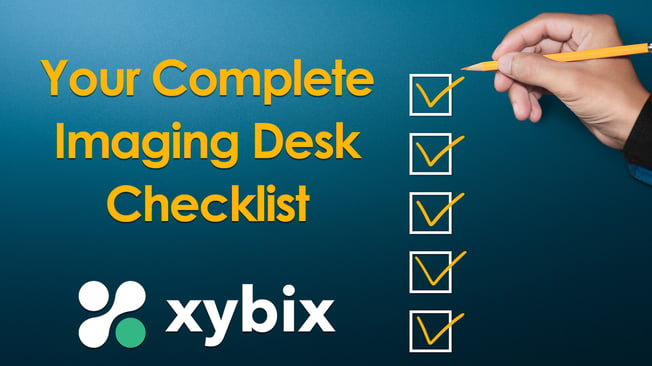 As you look for new radiology imaging desks, keep one goal in mind—better patient outcomes. Can you really achieve that with a piece of furniture? We think so—as long as that piece of furniture is ergonomically designed for the comfort of the radiologist and engineered to expertly manage all the equipment. And as long as the room itself is designed by an expert for optimal workflow and collaboration. In fact, the National Library of Medicine put it quite bluntly: "Burnout among radiologists may be mitigated by a physical work environment that promotes wellness."
Given the importance and expense of finding the right patient outcomes, we thought a little guidance might be in order. Use this handy checklist of must-have options for imaging desks as you do your research. (Tip: It's not all boring ergo stuff! Watch this video first for a little inspiration.)
Sit-to-Stand Flexibility
Proper Ergonomics
Meet or

exceed the

ANSI-HFES 100-2007

ergonomic standards to prevent musculoskeletal injuries such as carpal tunnel, tendonitis, back pain, headaches, eyestrain and more

Height-adjustable range that accommodates all users, sitting or standing, from the 5th to the 95th percentile in height
Monitor Placement
Bear the weight of multiple heavy and expensive monitors

Quick and simple

monitor adjustments

to allow for the proper focal distance (20" to 40" from eyes) and viewing angle (gazing down 15° to 20° from eye level) to ensure a good read, protect eyes from strain, and prevent headaches and neck pain

Easily pull in a monitor for a closer look
Mic Placement
Dual-surface desktop to help with the ergonomic placement of microphones and keyboards

Height-adjustable dual surface that allows for

optimal mic placement

for accurate speech recognition
Computer / CPU Placement
Computer /

CPU hanger to ensure the

shortest possible video cable

and produce the best resolution image

Computer /

CPU hanger to keep the floor area clear, protect it from damage, and save desktop space for other equipment
Cable Management & Data Dock
Cable management system that ensures reliable connections, prevents tripping and provides easy access to

IT

Cellphone shelf and charging station to keep your phone at the ready

USB inputs to easily switch the keyboard and mouse at shift change according to user preferences
Dimensions, Shape & Durability
Desktop sized to hold a keyboard, mouse, phone, recording device, reference books, paper files and all other necessities

Curved desk front so you can position yourself closer to the desk and create a more comfortable reach zone

Beveled desk edge to ensure neutral wrist alignment, which helps prevent carpal tunnel and tendonitis

Engineered for 24/7/365, raising and lowering the desk with heavy equipment throughout the day, according to third-party testing and

BIFMA certification
Custom Lighting Controls
Surface-mounted task lights over the monitor and/or keyboard to find items in the dim room

Adjustable direction and intensity of task lights to suit user needs and preferences

Bias lighting to provide the ambient lighting that improves reading conditions without causing eyestrain

Colored lights on acrylic panels that

impact circadian rhythms

to improve health, morale and productivity

Ability to save all light, color and intensity settings in scenes to activate with one touch
Custom Climate Controls
Custom heating/cooling controls to

reduce the discomfort and time

involved in adjusting temperature

Personal heater to keep hands warm and

reduce the chance of errors

Personal cooling fan to prevent the stress of being too hot

Save heating and cooling settings in scenes to quickly change the temperature at shift change and throughout the day
Customization Convenience

The AXYS system allows you to adjust the lighting, climate, and surface heights of your desk via your computer, tablet, or phone.

The AXYS system allows you to save your favorite combinations settings for quick and easy recall.
Healthy Desktop
3D laminate desktop that is durable, attractive and easy-to-clean

Seamless desk edge prevents scratches, snags and unsanitary crumbs

GREENGUARD Gold

certification to promote healthy air

Built-in cupholder option to keep caffeine and smoothies handy and spills at bay
Space Planning
Free layout and design services

from a degreed and experienced interior designer

Space planned to meet ADA, electrical and fire codes while accommodating all the imaging desks, filing cabinets, printers, etc., needed

Custom layout to enhance workflow and collaboration while providing privacy and noise reduction

Assistance with color, carpet, paint and finish selections



Follow Through
High-quality, made-in-the-USA construction

Strong warranty that covers parts and labor

Experienced installation team capable of everything from new construction to live cutover

Dedicated customer service team that understands the urgent needs in imaging and healthcare
Want a print-friendly version of this list? We have one available for you right here!
As further evidence that imaging desks and design matter, check out this research study from the University of Maryland Medical Center. The study, focused on the ergonomics of digital reading rooms and diagnostic workstation configurations, emphasized that "Inadequate ergonomics stresses the body by forcing it into awkward postures or repeated movements, leading to discomfort, fatigue, pain and, over time, musculoskeletal disorders." The study went on to recommend "ergonomically designed furniture and ergonomically friendly work habits" as two of the lowest-cost ways to combat these issues.
To learn more about Xybix radiology imaging desks, reach out anytime.