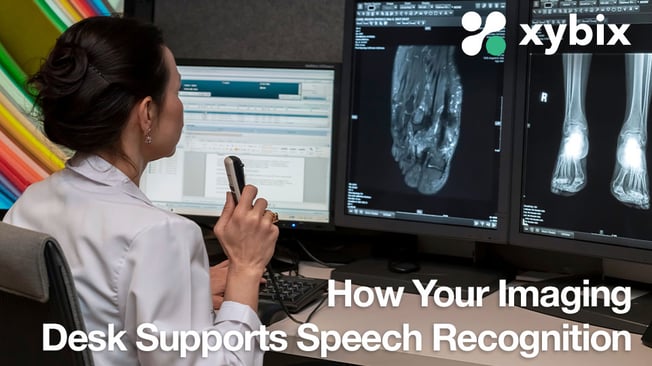 Using speech recognition (SR) technology in a radiology lab can drive better health outcomes by increasing accuracy and productivity while simultaneously reducing stress and lowering costs. It's good for the patient, good for the radiologist and good for business—a no brainer, right? But like all technology integrations, it needs to be done with care.
The software and hardware need to support each other, right down to the imaging desk that holds the monitors, computer, keyboard, mouse and—significantly—the microphone. (Hey, you're on the Xybix site. I'm going to talk about the desk. Specifically: Why radiologists need a highly adjustable dual-surface imaging desk.)
Post-Pandemic, the Benefits of Speech Recognition Are More Important than Ever
Radiologists were early adopters of speech recognition technology, such as Nuance PowerScribe and Reporting PLUS+, and they have experienced its rapid evolution firsthand. Today, they can leverage a cloud-based SR solution with radiology-specific vocabulary and the ability to understand freeform, narrative-based reports from all users, including those who speak with an accent.
According to Radiology Today, "SR technology, used the right way, has the potential to make the read-flow process more intelligent, meaningful, and accurate as well as reduce the stresses that radiologists find themselves under." Exploiting these key benefits of SR is significant in our post-pandemic world of patients trying to "catch up" on their healthcare amid a worker shortage. Essentially, with SR, radiologists can provide better service to more people.
Why the Desk Matters
The imaging desk matters because it needs to hold a lot of expensive technology and provide a safe and comfortable environment for radiologists to work. And yes, it needs to hold the microphone for the speech recognition input. Let's take a look at some must-haves on the desk to ensure that your investment in hardware, software and people pays off.
Managing Expensive Equipment
A radiology desk needs to support multiple monitors, including a $30Kish monitor for reading, hang the CPU/computer

, manage cables, and provide space for a keyboard, mouse, mic, other peripherals, and reference materials. The monitor arms and desk legs must be especially strong and durable, as proven by testing from the Business and Institutional Furniture Manufacturers Association, aka

BIFMA.


Offering Sit-to-Stand Flexibility
Given the significance of their work on the frontline of healthcare, it's almost a given that radiologists should have ergonomic desks with sit-to-stand flexibility. Working while standing is known to increase productivity, decrease back pain and burn calories

, promoting overall health and wellness. (For tips on how long to stand vs. sit, click

here

.)
Expert Ergonomics
In addition to offering the option to stand, the imaging desk needs to be highly adjustable to help prevent musculoskeletal injuries from the repetitive work. Surveys of radiologists consistently show high levels of neck pain, lower back pain and other repetitive stress injuries, including headaches and eyestrain. In fact, a biomedical engineer with a large healthcare organization told me recently that "A number of radiologists have retired due to musculoskeletal injuries related to poor ergonomic environments."
I believe the desk is the No. 1 item in a reading room that can facilitate an ergonomic friendly environment—even with the reduction in mouse/keyboard clicks thanks to SR.* Preventing pain and injuries involves buying the right desk and using it the right way.
The right imaging desk will meet or exceed the ANSI-HFES 100-2007 Human Factors Engineering of Computer Workstations ergonomic standards. And the right desk will provide quick and easy adjustments that enable users to properly position their body in relation to the desk and equipment. Specifically, the desk must be height-adjustable to accommodate all users, sitting or standing, from the 5th to the 95th percentile in height. In addition, a dual-surface helps user properly position the monitors in relation to the keyboard.
In terms of using the desk, whether sitting or standing, radiologists can prevent pain and injuries by adjusting the desktop height and monitors to keep the elbows bent at 90°, maintain a neutral wrist, keep frequently used items in the primary reach zone, ­and achieve an equal focal distance of about 20" and a view angle of 15–20° below horizontal on all monitors.
*In rapidly advancing SR technologies, voice commands can replace up to 90% of manual keyboard and mouse activities. This combined with maintaining a neutral wrist while typing can significantly decrease repetitive stress injuries.
Microphone Placement for High-Quality Speech Recognition
Here's one last way the desk matters: It's where the 50­–60% of radiologists who use tabletop (boom) mics need to place the microphone. A few tips: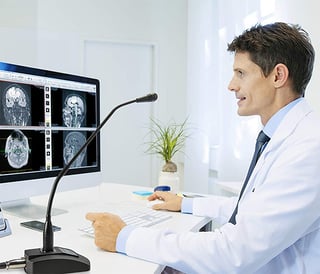 In general, look to place the mic as close as possible to your mouth (about 1–3 inches) but outside your breath stream.

The exact mic placement may vary among radiologists due to their speaking volume and the noise level in the reading room.



To get the mic in the optimum spot for speech recognition, you may need

to rely on a dual-surface desk so that mic placement doesn't interfere with monitor placement.
(I should note that about a quarter of radiologists use a handheld microphones, supporting it by resting an elbow on the work surface—putting themselves at risk of carpal tunnel and cubital tunnel. Few radiologists use headsets.)
Innovations that Promote Productivity and Health
Imaging desks, such as those from Xybix, include features that enhance radiologist productivity and health. To encourage good habits, these controls are all at the user's fingertips.
Surface-mounted task lights so radiologists can consult reference materials without getting up to turn on a light

Bias lighting to ease eyestrain

Personal climate controls to reduce time spent adjusting heating/cooling and prevent errors from

cold hands

Cupholder to keep caffeine handy and spills at bay

Data dock for phone charging and keyboard/mouse input

RollerVision to quickly pull in a monitor for a closer look and for overall ease of adjustments

GREENGUARD Gold certification to promote healthy air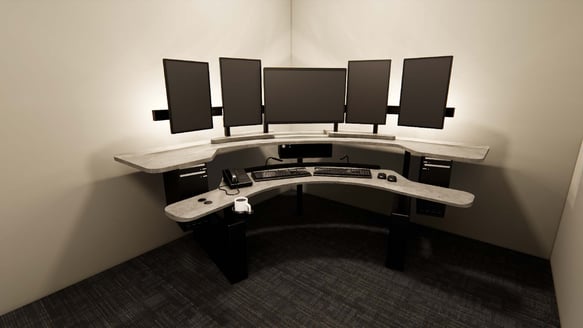 To maximize the use of advancing speech recognition technologies in radiology—while enabling better patient outcomes at lower costs—it's clear that healthcare facilities need dual-surface ANSI/HFES imaging desks built specifically to accommodate the specialized hardware, software and users.
For more information on imaging desks, reach out to us today.