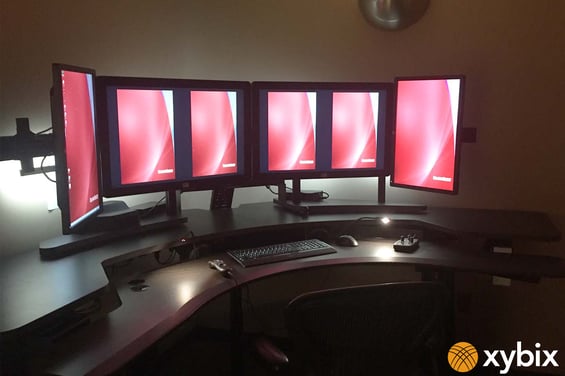 Remember way back in 2016 when the iPhone discontinued the headphone jack? "Wires are so over," it seemed to pronounce to all of us busy untangling those white headphone wires. "Wireless is the future."
But wireless is not the future when sound quality really matters, and it's not the future for displays when resolution really matters. Such is the case in radiology. When a radiologist is reading images, displaying high-resolution images is crucial. Wireless will just not do. In fact, the longer the video cable, the poorer the resolution of the images onscreen. As a result, the placement of the CPU* in relation to the monitor is critical.
In my experience, the best solution is to hang the CPU from the desktop's rear shelf. This configuration offers many benefits:
Allows for the shortest possible video cable to produce the best resolution

Ensures that the CPU travels up and down with the desk rather than stretching the cable

Keeps the floor area clear and protects the CPU from damage

Saves space on the desktop for recording equipment and other office supplies

Organizes cables in the back, preventing accidents (such as tripping) while providing easy access for IT
Your IT department may want to place the CPUs in cabinets with fans to prevent overheating. Using cabinets, however, requires longer monitors cables and may stretch the cable or interrupt the connection when the desk travels up or down.
Radiologists invest more than $40K in monitors that provide the resolution they need to provide the best possible patient care. The last thing you want is a desk configuration that requires a longer monitor cable. This issue is so important that if the cable exceeds a specified length, Barco will not warranty its monitor resolution.
The Xybix Eagle line of healthcare workstations offers flexible configurations to accommodate all of your equipment. Please contact one of our experienced healthcare team members for details.
To learn more about the features of Xybix healthcare desks, watch this short video:
*CPU is actually short for Central Processing Unit, and is the brain of the computer. However, in this context we're using it here to mean a whole desktop machine.