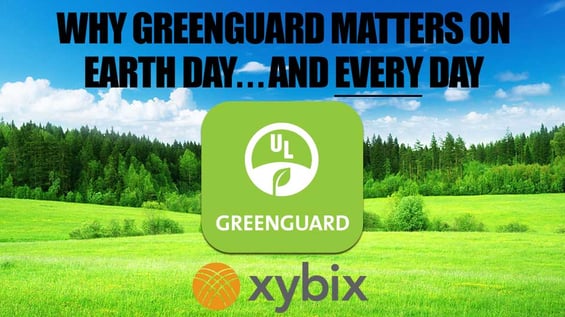 "Because every day is Children's Day!"
That's what parents say when kids ask, "Why is there Mother's Day and Father's Day but no Children's Day."
Since 1970, we've also had Earth's Day, every April 22, to demonstrate support for protecting the environment. The big question here is this: "Why isn't every day Earth Day?" I mean, we all have to live here, space tourism nonwithstanding.
Which brings me to the fascinating topics of VOCs, IAQ, GREENGUARD Gold certification and LEED. I've written about these topics before, and I admit the acronym-heavy topics can sound like mumbo-jumbo. So let me try to walk you through it in plain language—including why we all should care about this.
VOCs & IAQ
The best way to understand VOCs is through "new car smell." That smell is emissions from volatile organic compounds (VOCs)—mostly manmade chemicals—leaching out into the air. Many building materials, home furnishings and office products emit VOCs, which can be harmful to people's health and the environment over time.
The health impacts from VOC emissions can include eye, nose and throat irritation; headaches and low concentration; difficulty breathing; nausea; organ or central nervous system damage; and even cancer. Familiar toxic VOCs include benzene and formaldehyde, and uncontrolled VOC emission may act as greenhouse gasses and lead to climate change.
I know that some of you are already thinking, "Yea, but when's the last time anyone got cancer from a new car?" And I admit that VOCs have varying levels of toxicity, and even experts can't yet pin down the levels of exposure and length of time involved to cause health problems. But may I remind you that we thought lead paint was a good idea until 1978?
What we do know is that indoor air quality (IAQ) is directly linked to health, and lowering VOC emissions from paint, furnishings and other indoor materials is important in homes, schools, hospitals and workplaces. This is why products tout their no-VOC and low-VOC status, and why products get GREENGUARD certified.
GREENGUARD Certification
Here at Xybix, we minimize VOCs by paying attention to the materials and manufacturing techniques that go into making our consoles. For example, we selected a water-based spray adhesive with zero VOCs to protect our employees during the manufacturing process and the users of our furniture. But you don't have to take our word for it. Our products undergo independent testing every quarter to achieve GREENGUARD Certification, the widely adopted and trusted standard for identifying and labeling low-emitting VOC products. In fact, as April 14, 2022, we earned GREENGUARD Gold Certification, which includes more health-based criteria to ensure that products are acceptable for use in schools and healthcare facilities. The certification ensures that all parts of the console—even the 3D laminate desktop—meet the most stringent chemical emission standards in the world.
We focus on low VOC emissions because we care about workplace health—especially in 24/7 public safety and healthcare environments—and we care about the Earth. Plus, we care for another reason: GREENGUARD certification can help our architect partners.
LEED Credits
More than 400 green building codes, standards, guidelines, procurement policies and rating systems give credit for GREENGUARD certified products. The mother of all these standards is the U.S. Green Building Council's Leadership in Energy and Environmental Design (LEED) standard.
When architects and builders take on a project, they often seek LEED certification to showcase their green and sustainable practices. LEED certification may offer benefits such as positive PR, faster leasing rates, higher property values, zoning allowances and even tax rebates. When a project is evaluated for LEED certification, it will receive points for GREENGUARD certified furniture.

Why care about GREENGUARD on Earth Day and every day? Because it's the right thing to do for people and the environment. Learn more about VOCs and GREENGUARD from my brother Barry here: