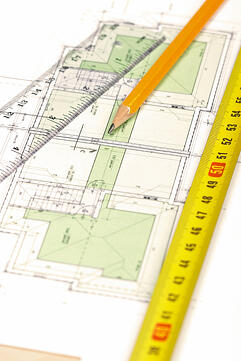 So you're planning a new dispatch center! Where should you start? One of the first questions an architect or contractor may ask is how much square footage you'll require for the space. This is a tricky question, and one that carries serious financial consequences. On one hand, you don't want so much space that sections of the room are left empty. On the other, you don't want to squeeze workstations into an area that is too small either. Take advantage of this pre-planning stage to build the perfect fit — with a space for your current staff (plus room to grow) that will meet the functional requirements of an up-to-date dispatch center. But how much square footage is that, exactly? That question may leave you scratching your head.
One way to evaluate your square-footage needs is to measure your existing usable square feet (USF) per person ratio. To determine the USF, calculate the total square footage you currently occupy, including offices, open areas, conference rooms, kitchenettes, etc., and divide it by the number of people using the space. These numbers can range from 175 USF/person for a high-density open office, to 325 USF/person for a private-office plan. This calculation alone doesn't tell you how much space you'll need moving forward, but instead gives you a general idea of your current situation. If you are looking to change the size of your workstations, add larger offices or increase support areas, the USF can be misleading, so don't rely on it alone.
A second method of determining the square footage you need is to make a list of all the areas your dispatch center needs, estimating the general size each space should be and adding them up to get a square-footage total. You must define the private office sizes, which can range anywhere from 150 square feet (a 10' x 15' office) to 225 square feet (a 15' x 15' office), as well as cubicle sizes, which can vary from 36 square feet (a 6' x 6' cubicle) to 108 square feet (a 9' x 12' cubicle), depending on function and equipment requirements.
Be careful when estimating square-footage needs, and remember that the functions and equipment requirements of an office setting are drastically different than those of a dispatch center. If the preliminary estimate of an office space uses a 36-square-foot cubicle area, chances are that this won't come close to the actual requirements of a dispatch station. In addition, for open-office areas, you must add adequate circulation factors, which includes additional space for hallways, circulation paths, and American Disabilities Act (ADA) access requirements. As author Julie K. Rayfield states in her book, Office Interior Design Guide: An Introduction for Facility and Design Professionals, "As a percentage of the total square footage required for a project, circulation ranges from 15% to 60% based on the type of space, the efficiency of the layout, type of furniture…"
Below are some examples of typical workstations and typical configuration layouts that show square footage data: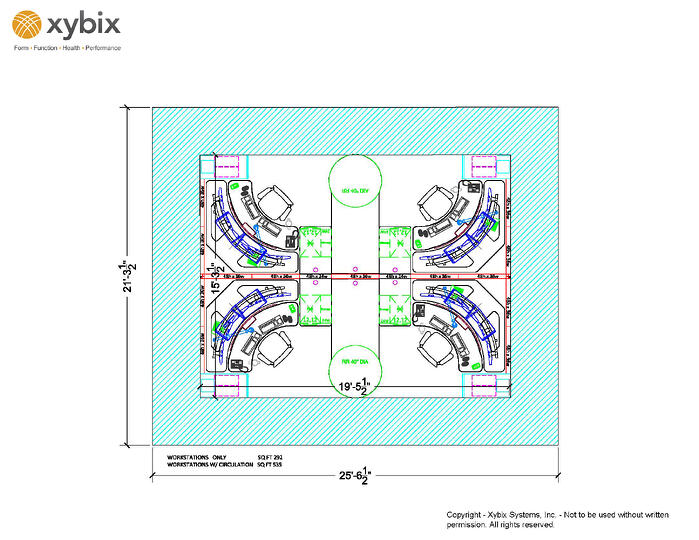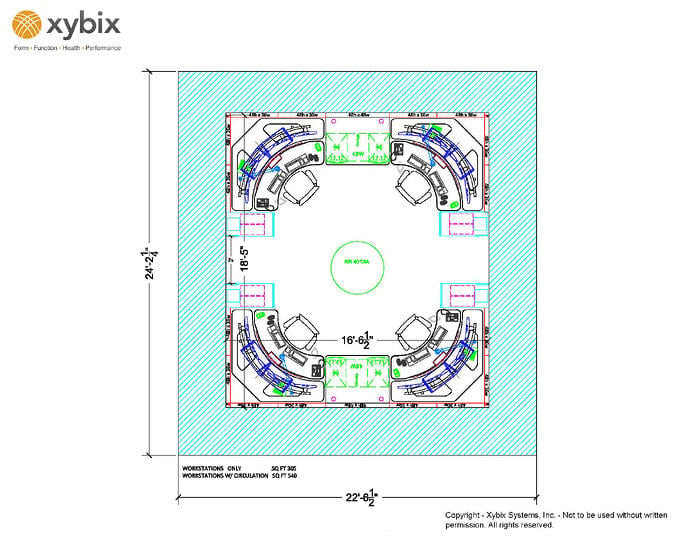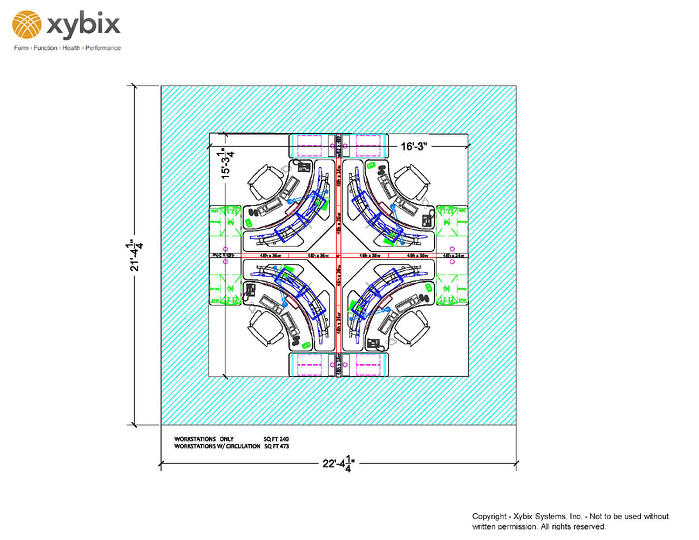 All support areas should be measured as well, such as kitchenettes, file rooms, locker areas, etc. And don't forget to calculate for future growth! Define how many people you have now — again you can calculate the USF — then determine how many employees you plan to add during the length of your lease, and add those numbers to your overall totals. This estimate may not lead you to your ideal square footage, but it's a good start.
The best way to evaluate square footage is to enlist the services of a professional designer early on in the process. Try to find someone who has expertise in space planning specifically for the dispatch industry. A data-collecting team can develop an initial "Needs Program" through discussions with user groups, interviews, questionnaires and site visits of the existing facilities. This program should clearly define the projected number of people and the functions of each group, as well as include an evaluation of the total equipment requirements for each position and the center as a whole.
The "Needs Program" information is then used by the designer to develop a range of typical workstation sizes for each function. These will be reviewed, evaluated, and approved together with your team. The designer will then plan those workstations within the constraints of the spaces being evaluated. Space plan configurations can result in highly efficient use of the square footage and lower circulation percentages, while other configurations will result in higher rates of circulation area. Enlisting a designer with experience and expertise can save precious time and effort, while allowing you to estimate the correct amount of total square footage you need to meet your functional requirements or accurately evaluate an existing renovated space. Let a team of professionals collaborate with you to create the best solution for your long-term goals.