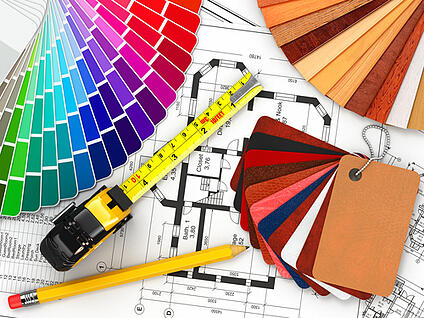 First things first, What Is Interior Design?
The history of interior design dates back thousands of years. Evidence shows that cave walls were painted with detailed representations of animals and plants. Egyptians decorated their homes with painted vases and handmade sculptures. And the Greeks used mosaic floors and wall paintings to embellish their interiors, even establishing strict guidelines for building construction.
Interior design is the art of planning and overseeing the design and execution of architectural interiors. This may sound simple, however, there are countless details to consider when designing interior spaces, such as adjacency requirements, environmental impacts, furniture, fixtures and equipment (FF&E), and finish selections, along with the fundamental principles of design: balance, emphasis, rhythm, proportion and scale, harmony and unity. The way these details and principles are combined and interact create the overall design of a space.
Interior design is the finished product of a harmonious environment, in which the interior's visual aspects are unified with the architecture in order to provide a solution that is pleasing to both mind and body — and appropriate to the activities performed there. For example, the design of commercial spaces such as offices, communications centers, hospitals, retail establishments, and schools prioritize the arrangement of function and business operation ahead of aesthetic concerns.
As legendary designer Charles Eames said: "Design is a plan for arranging elements in such a way as to best accomplish a particular purpose."
Who Are Professional Interior Designers?
Professional interior designers are detail-oriented individuals who are qualified by education and enhanced by experience. Interior designers are knowledgeable on a multitude of subjects, which together are used to create a designed space. Subjects including space planning, adjacency requirements, material and finish selections, building technology, environmental factors, design programs such as Greenguard, accessibility guidelines through the Americans with Disabilities Act (ADA), building codes, project management, safety standards, ergonomic standards such as ANSI/HFES 100-2007, lighting and color theory — just to name a few. Interior designers combine their knowledge of these areas to create solutions for a given space, with the goal of improving the quality of life, increasing productivity and protecting the health, safety and welfare of the public.
What Do Professional Interior Designers "Do"?
Graphic designer and Academy Award-winning filmmaker Saul Bass once said "design is thinking made visual." In a nutshell, interior designers are problem solvers. They have technical expertise that goes well beyond the aesthetic appearance of interiors. The public's health, safety and welfare (HSW) are of the utmost importance to interior designers, and they collaborate with other trade professionals such as architects, general contractors, electricians and other specialty contractors to ensure that every aspect of a project has been methodically thought out, and will guarantee the HSW of the public.
Recent research conducted by the University of Minnesota's College of Design, published as The Interior Design Profession's Body of Knowledge and Its Relationship to People's Health, Safety and Welfare, defines health as related to interior design practice as follows: "Interior designers create interior environments that support people's soundness of body and mind; protect their physical, mental and social well-being; and prevent disease, injury, illness or pain that could be caused by occupancy of interior environments. Design knowledge related to health includes, but is not limited to, ergonomics, indoor air quality, light, and acoustics."
Interior designers follow a guideline set by author Deepak Chopra: "Instead of thinking outside of the box, get rid of the box." They utilize their expertise to challenge the boundaries of the "norms" and provide outcomes that seem unimaginable by most people.
Here are some things that interior designers "do":
-Build relationships.
-Evaluate the needs of the (and wants) of the client.
-Research solutions.
-Communicate ideas.
-Collaborate with other trade professionals.
-Specify materials and finishes, furnishings, fixtures and equipment (FF&E).
-Develop solutions that adhere to industry standards and guidelines.
-Prepare working drawings and specifications.
-Create spaces that are functional and aesthetically pleasing.
-Manage multiple projects from start to finish.
-Enhance the interior environment.
So with that in mind, a better question might be: What don't interior designers do?
Does the Interior Design in My Facility Really Matter?
In a short answer: YES! Interior design does matter. According to the Environmental Protection Agency, the average American spends about 90 percent of their time indoors. This is why interior design has such a monumental impact on our overall well-being. Properly designed spaces contribute to the functionality and quality of a space, which has been proven to increase productivity of workers.
The American Society of Interior Designers (ASID) sums it up nicely: "Design gives shape and meaning to who and what we are as well as to who we can become. In this, it is significant since each designer bears the responsibility to thoughtfully give shape and meaning to the behavior that is ultimately the end-product of all design outcomes."
Interior design was, is and always will be a part of human culture. All in all, collaborating with professional designers is a fundamental asset to the overall success of your project. And who knows? The results could be life-changing.