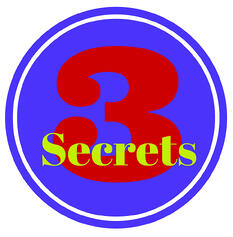 Step into the service bay of an auto dealership and what do you see? Efficiency. In fact, walk into my wife's kitchen and you'll see a similar lean approach to how she works in her space. No one likes to waste time and energy when you're just trying to get the job done. And considering that most Americans spend 90 percent (or more) of our time indoors, it's important for Comm Center Managers to build a comfortable work environment — especially in a space-critical dispatch center, where every inch matters.
With this in mind, I've developed three "secrets" to guide Comm Center Managers in their quest to maximize their workspaces. These tips will not only help your 911 center operate more efficiently, but will also increase the productivity of your team. So let's get started!
Make Your Equipment Dance
Who says you have to lay out your desks and monitors a specific way? You can rearrange your monitors and keyboards to save money and space. In other words — make them dance!
First, invest in larger monitors instead of more monitors. A 24-inch portrait monitor can hold two screens within it horizontally. This saves you from needing additional brackets, reduces your cost, and allows you to design a smaller console. That's helpful when you're looking for space for your CPUs or storage. You'll also experience a better line of sight with this arrangement. There may be a slight learning curve to navigate your portrait monitor and split screen, but it shouldn't be hard to adjust.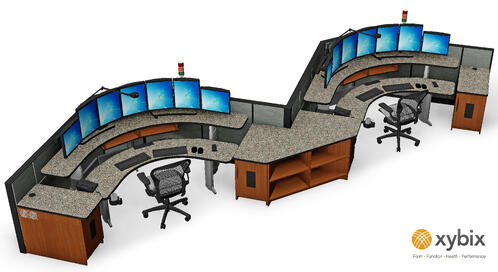 Next, utilize toggle switches for your keyboards and multiple mouse setups. This can help you get down to one or two keyboards and mice — we've seen up to eight!
Lastly, curve the monitor layout to maximize monitor space and reduce neck strain. There's a reason movie theaters don't put screens on the side of the theater. Make the screen easy to view without turning your head.
Inspect the Unexpected
Unexpected circulation. When designing a Comm Center, one of the most overlooked obstacles is this unseen aisle-way space. Remember that a minimum of 25–35 percent of your space should be allocated just for walking and moving around. It's essential that an aisle-way clearance of at least 3 feet is factored into the work space just as you would a desk or chair. Here's an illustration showing two layouts of the same room (220 sq ft). You can see that 43.7% of the space is required for circulation in the curved layout versus 52.7% in the straight arrangement.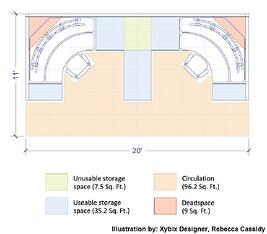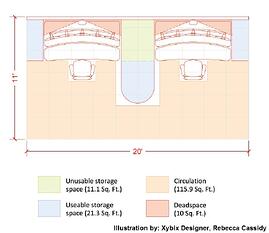 Unexpected dead space. You must also recognize inefficient clearance and non-utilized backspace. In our illustration, the darker pink areas are non-utilized backspace: areas out of primary reach and behind monitors. The two are comparable but it's easy to see how the vision depth in the straight layout is not as uniform as the curved arrangement.
Unexpected non-utilization. In that same illustration, the yellow and blue areas illustrate unusable and usable storage space. The straight layout offers 9.68% of usable storage where they curved provides 16%.
If you calculate the total square footage of these two work space layouts, you'll see that the linear layout requires more square footage with a lower utilization ratio than the designed corner workstation. It's worth inspecting this before moving ahead on your plans. Need guidance to do this?
Hire Free Experts
There are four strategies that will help you leverage a professionally qualified design team — for free. In fact, these strategies could end up saving you money.
The first strategy is to detach your emotions from the initial layout or design you create. Simply put, change happens. First attempts may require changes down the road in order to become compliant in the development of the comm center.
The next strategy is to find a design team that knows public safety and dispatch. Subcontracted interior designers without this qualification may offer layout and aesthetic selections but will miss some critical design components.
Your third strategy is to get a qualified design team and architect together EARLY. Nothing is more frustrating than delays caused by incorrect sizing or overlooked factors that a design team could have helped avoid.
Strategy number four is to create a spatial-needs analysis. This allows you to account for:
Building Codes

Adjacency requirements
Building technology
Environmental factors
Design programs such as

Greenguard

Safety standards
Ergonomic standards

ANSI/HFES 100-2007

Lighting and color theory
Material and finish selections
At the end of the day, it's important to remember that your equipment can move. Unseen space needs to be accounted for. And designers with a diversity of experience and industry knowledge are ready to lend a hand. We hope you can utilize these three "secrets" to maximize your work space and increase the comfort and productivity of your team.