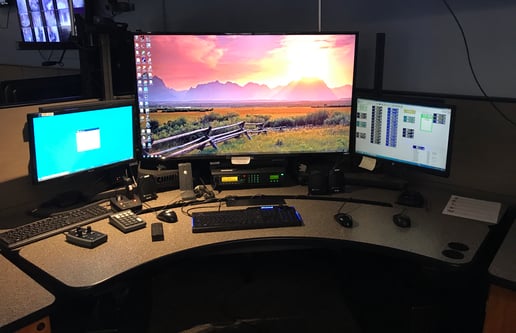 Technology is pushing the 911 industry forward. Technological advancement is an important element of helping emergency responders and dispatchers be efficient at their jobs, and because of this, it is always a challenge to keep up with new emerging technologies. Of course the private sector gets the latest in new developments first, and then they work their way into public safety market. What similarly seems to happen is that the digital side of the product pushes the envelope, and afterwards, the hardware side is left to catch up.
Can Your Hardware Handle the Change?
The picture above is a great example of what the future holds for the 911 comm center. Screens have only grown over the past 15 years, and dispatchers can now take advantage of software that can handle large screens. That being said, it's important to consider whether or not your hardware is also ready for this type of upgrade.
If you look at the picture above, you'll see that this specific hardware is how you would mount these larger monitors to the console. If you have monitor arms on a slat wall, mounting this size of monitor will be extremely difficult or impossible. These slat wall mounts generally do not hold the weight, of these new large monitors, which start at around 20 pounds. In addition to the weight of the monitor, the arm attached to the slat wall is not long enough to keep the monitors from banging on the surface. These new monitors are double the height of what you will be replacing, so you need to create a setup that will work with the larger equipment.
What Will Work?
It's important to use monitor arcs that can hold multiple monitors and will have enough vertical adjustment. If you take another look at the photo above, you can see that height of all of the monitors is even at the bottom. This requires independent vertical monitor adjustment. This is done to help keep track of your mouse. Also, the backup radio and the other equipment are placed under the monitors within quick reach of the dispatcher. If you take the time to create an improved, clean setup, you will be ready for the future today.
Know Before You Buy
Before you run out and buy a large screen, make sure both your software and hardware will work with the advanced equipment, and when looking at new dispatch consoles, find out if they can handle the upgraded technology before you purchase. Remember, a little bit of forethought will save you a headache or two.