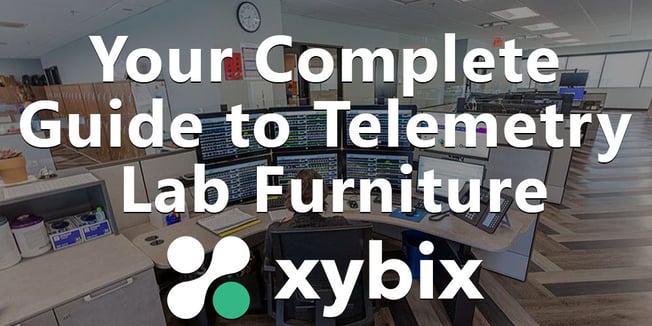 How many times have you bought a larger phone and then had to buy a larger case? Or a larger purse or fanny pack? (If Dr. Rick will let you keep a fanny pack, that is.) That's what happens with technology—it gets bigger and better, but we need bigger and better spaces to accommodate it. So it goes with telemetry labs.
All this great technology became available for remote patient monitoring, with the promise of improving patient care while saving time and money. But like that new Ford F-150 that barely fits in the garage, we had to shoehorn all these computers and screens onto old straight desks and crawl or climb around to connect it all. Imagine, the desk bowed from the weight, cables tangled everywhere, and a sore back from being hunched over it all for hours on end.
Fortunately, technical furniture manufacturers realized their dispatch desks are ideal for telemetry labs. For decades, we've been refining tools to manage multiple screens, organize cords, hang computers and—best of all—offer sit-to-stand flexibility to keep mission-critical workers alert and comfortable during long shifts. Now, we're making a difference in healthcare environments and doing even more to tailor our desks to your needs.
If you're about to install or remodel a telemetry lab—even one with a single desk—do your research. These types of desks require an investment but they're awesomely full featured and built to last. To help with your research, we've compiled a list of must-haves and nice-to-haves in features and service. Good luck—and feel free to reach out to us anytime.

Note: A downloadable PDF version of this checklist is available, too.
CRITICAL FEATURES FOR TELEMETRY DESKS—FROM HEAD TO TOE

Category

Feature

Reason

Available from Vendor?

Screens

Double stack multiple screens

Allows healthcare professionals to monitor multiple patients at a time

Monitor mounts that accommodate screens of 30 pounds (standard) and 75 pounds (HD)

Bears the weight of heavy screens without bowing while allowing for easy adjustments

Quickly adjust distance, height and angle of screens, including at least 10 inches of focal-depth adjustments

Ensures proper focal depth for each individual to prevent eyestrain, headaches and neck pain

Easy access for IT to switch out malfunctioning or outdated screens

Prevents downtime that might hamper patient care and ensures easy installation as screens continue to grow in size and resolution

Desktop

Dual surface enabling the keyboard and other equipment to move independently of the screens

Offers more flexibility to ensure proper ergonomic placement of screens and equipment for healthcare workers of all sizes

Spacious desktop surface that places all critical equipment—keyboard, mouse, phone, binders, etc.—within the primary reach zone

Keeps critical equipment in the primary reach zone—where a user can reach by sweeping an arm across the desk at the elbow—to help prevent painful and costly conditions such as carpal tunnel, cubital tunnel, tendonitis, mouse shoulder, neck pain and more

Curved front with a smooth edge

Maximizes the reach zone and enables proper focal depth while providing a more comfortable workspace

Easy-to-clean, sealed work surface without seams

Reduces the spread of disease-causing organisms and the resulting illnesses and absenteeism

GREENGUARD Gold Certification

Provides assurance of low chemical emissions for products used in schools and healthcare facilities

USB connection for phone chargers, keyboard, mice

Helps ensure that all devices are powered up and ready for monitoring patients

Accommodate screens and other equipment of up to 300 pounds

Withstands the weight of multiple, heavy, high-resolution screens and other equipment without bowing or tipping to protect personnel and equipment and to prevent interruptions in patient monitoring

Computer Hanger or Cabinet

A method for keeping the computer off the desk, such as a hanger or cabinet

Provides easy access to IT for maintenance and replacement, frees up desk space to keep critical equipment in the primary reach zone, and keeps equipment off the floor where it's vulnerable to damage

Cooled and lighted computer cabinets

Prevents overheating and assists IT with maintenance when cabinets are preferred over hangers

Cable Management

The ability to organize and hide cables and power cords for screens

Protects personnel and screens by preventing accidental tipping and falling caused by cables

The ability to manage all cords and cables associated with critical equipment (up to 30 cords per station is common in healthcare)

Complies with fire codes, eases frustration from tangled cords, provides a distraction-free workspace, and protects personnel and equipment

Sit-to-Stand

Quickly and easily raise and lower the desk so users can sit or stand

Offers personnel the flexibility to alternate between sitting and standing to stay alert and comfortable during a 12-hour shift

Height adjustable range from 22 inches for sitting to 55 inches for standing

Accommodates users of all heights, from the 5th percentile to the 95th percentile, whether sitting or standing to ensure comfort, prevent musculoskeletal injuries and comply with the ANSI/HFES Human Factors Engineering of Computer Workstations standard

Ability to save height settings

Enables users to quickly adjust the desk to their personal needs

Durability

Engineered and built for 24/7 use

Provides the strength and durability needed to hold all the equipment, reliably and safely adjust the height, and prevent any downtime from a damaged desk

Compliance with Business and Institutional Furniture Manufacturing Association (BIFMA) standards

Offers third-party verification that the desk is safe to operate and built to last

Track record of desks with a 15- to 20-year lifespan

Minimizes the costs and disruptions of repairs and replacements, allowing healthcare professionals to focus on patient monitoring

Service

Full-service, complimentary consultation, interior design and layout

Ensures a functional telemetry room (with space to grow as needed) that fosters communication and complies with ADA and electrical considerations; degreed and experienced designers can offer advice on color, lighting, sound mitigation and more, all with the goal of enhancing patient monitoring and care

Installers experienced in healthcare environments and live cutovers

Decreases disruption so personnel can focus on patient monitoring

A strong warranty that covers the desk, parts and labor

Indicates confidence that a desk is built to last, and it provides assurance that the desk will be fixed if something goes wrong

24/7 access to proven customer service

Provides immediate assistance when healthcare workers need it, whether it's 2 a.m. or 3 p.m., to get the desk functional and people back to work

References provided

Offers opinions and advice from others in the same field along with assurance about vendors under consideration
NICE-TO-HAVE FEATURES

Category

Feature

Reason

Available from Vendor?

Comfort
Features

Personal fan

Offers people who feel warm an opportunity to cool off

Personal heater

Enables people who feel cold to warm up, especially cold hands, which can lead to mistakes

Ability to save settings

Allows users to save their climate and lighting preferences, and change them throughout their shift with the touch of a button

Lighting

Bias and task lighting

Prevents eyestrain and headaches in darker rooms

Status indicator light

Provides at-a-glance status of the user, such as on the phone or in need of assistance

Space

Side work surfaces

Accommodates additional necessary equipment such as a printer, barcode scanner, or KVM switch

Filing cabinet

Provides easy access to patient files and other documents in a cabinet that fits conveniently under or next to the desk

Sound Control

Acoustic panel system designed for the desk

Offers privacy and sound control to prevent distractions

Health & Wellness

Built-in cupholder

Encourages hydration while protecting equipment and documents from spills

Treadmill or bike option

Integrates a bike or treadmill into a workstation for seamless exercise throughout the day

Monitor sit/stand times

Tracks sitting and standing time to encourage movement
If you're working on a brand-new hospital or clinic, keep in mind that full-featured telemetry desks are ideal for healthcare security operations centers and hospital command centers as well.
Xybix has degreed interior designers with years of experience in solving problems for healthcare environments. Call us any time to learn more!