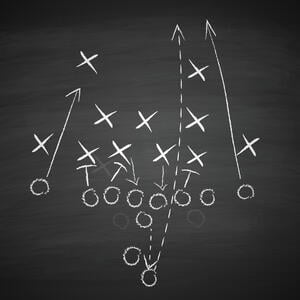 I love football. Live it. Breathe it. College most especially (GO SPARTANS!), but I have to watch my boy Aaron Rodgers on Sundays. I know there's a stigma surrounding women who "love" football, but I promise, it's not just the tight pants or that Tom Brady is married to Gisele (insert "EW").
But I will admit, I really have no clue how to read a play, other than maybe a post route and a blitz. These plays, to me, are so intricate, so well designed, that half the time I don't even think the "experts" know what happened until they watch the replay (I'm looking at you, Brent Musburger). That being said, Xybix's in-house design team members are like offensive and defensive coordinators; they know when to blitz, and they know when to rush.
I may be biased, but our design team is bar-none, unmatched in the industry. A strong defense creates a strong offense, and they know how to bring their "A game" and show our customers what they've got on a daily basis.
All football analogies aside, customers often ask, "What's the most common dispatch furniture layout that people go with?" I'm here to tell you, one is not necessarily better or more common than the other. So many factors go into a design, namely ADA requirements and code to ensure that customers meet the standards set forth by the government. Customer A may have a four-position center that works well in a "horseshoe" configuration, while Customer B, who also has four positions, works better in a "star" or "X" formation due to space constrictions, doors, equipment, etc. It's probably the most common question we get asked in the field but the one with the least amount of certainty — it really just depends!
In my previous blog, "Help! My Dispatch Center's Too Small!" I covered that what works for one center, may not work for another, and that just because you have a unique space, doesn't mean you can't get what you want or need. That's where having a dedicated team of design professionals comes into play. Design takes into account all of your nooks, crannies, codes and preferences and creates a dispatch furniture layout that works FOR YOU! I'm debunking the myth - there is no configuration that works better than another. Period. I repeat, it's what works FOR YOU! Just like the Packers and the Seahawks don't run the same plays, until the last 2 minutes when you've already decided you're going to the Superbowl and forget the other team has beasts working for them.
At the end of the day, your dispatch furniture sales rep should take all information into account before their qualified design team comes up with the right formations to help make you and your dispatchers a winning team.