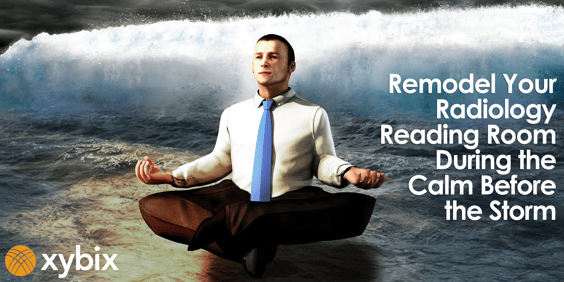 A storm is brewing. An estimated 28 million people delayed elective surgery this year due to the pandemic. And as you know, elective doesn't mean unnecessary. The backlog is brewing and you'll want to be ready.

Taking the time to research, plan and install a new radiology reading room console—during this relatively quiet time for many—means your business will be ready when the surge comes. This is an ideal time for long-awaited remodels and expansions due to capacity and acquisitions. The last thing you want to do is a live cutover to new systems when you're slammed.
Once you get started planning, you'll start to see how the remodel will benefit your patients, employees and business.
Design Drives Business
Imagine a reading environment that propels productivity, increases efficiency and decreases errors. Imagine this also improves the health outcome of your patients, attracts more referring physicians, enhances the reputation of your business, and fuels the economy in your community. You can build it. Here's how to get started.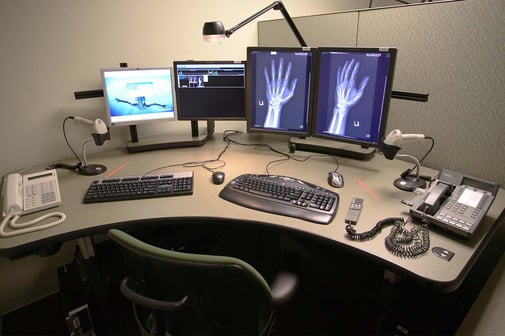 Make It Happen
Now is the time to do your homework. Start brainstorming about what you want, what you need and how you're going to pay for it. Stop imagining and start planning.
TEAM: Put together a team of actual users and managers to determine needs and wants. Then expand the team to include IT, finance and facilities to see what's feasible.


SCOPE: Use your team's input to define the scope, whether it's an all-new imaging center from the ground up or a remodel for a more efficient use of space. You can always phase in improvements—for example, purchase new imaging desks while keeping in mind new monitors that you have budgeted for next year.


BUDGET: The research starts in earnest now, and your needs, wants and scope may change as you find out costs. For starters, take a look at the cost of imaging desks.


TIMELINE: The scope of your project largely determines the timeline. Purchasing new imaging desks, for example, may take only 10 weeks

.

A larger project with an already approved budget might be more like 4–6 months.


SYSTEMS: If new PACS workstations, additional monitors or other IT upgrades are part of the scope, be sure the room and the desks will accommodate the new computers and monitors. Keep this in mind even if new hardware is in the next phase of a project.


ROOM: The design of the radiology reading room is key to accurate readings and patient care. To enhance focus and decrease fatigue, make thoughtful choices on ambient lighting, task lighting, paint color, and floor, ceiling and partition materials for sound control.


SPACE PLANNING: Working with a trained designer—early and often—helps ensure the imaging desks fit in the room while meeting fire codes and providing ADA-complaint walkways, egress and exit.


IMAGING DESKS: The imaging desks are the real workhorses, bearing the weight of heavy equipment while making space for massive monitors and managing cables. The ergonomics of the desk, however, are as important as the desk's size and shape.

A properly adjusted workstation can help prevent repetitive stress injuries,

neck strain, eye fatigue

and focus issues, which impact accuracy and productivity. In addition, the sit-stand option benefits the overall health of your radiologists.


CUTOVER: A smooth installation process involves everyone from IT and facilities to radiologists and procurement. Depending on the scope, you may be in for a weeks-long big bang project or you may phase in one new imaging desk at a time. The key to a smooth cutover is having all parties aligned.
Xybix pros have been working in healthcare for nearly 200 years combined, and we fully understand your needs. Let us help you bring the room you imagine to life.