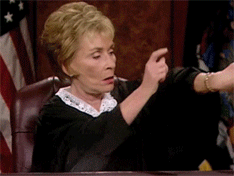 The idea of getting a new communications center, getting upgrades at your current center, or remodeling can be exciting, but there is also a lot to take into consideration. Typically, a comm center remodel involves several components, such as installing new flooring, painting the walls, implementing new CAD systems, finding new monitors, and of course, getting new dispatch consoles.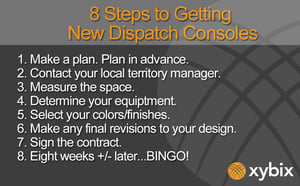 As you can see, there are quite a few moving parts involved in revamping a comm center. During this process, it's natural to want to plan around a time frame estimate. A question we are frequently asked is "how long does it take to get new dispatch consoles"? To help answer this, I'll map out the typical timeline we use at Xybix, starting from the beginning.
Plan in Advance
When you first hear about a project for a new or improved communications center, it is advisable to begin your planning process right then and there, even if the project is still a couple of years out. This allows the maximum amount of time to plan for and create the most ideal remodel while keeping in mind other things like your equipment, space design, and general workflow needs. Remember, the process will be much smoother if it's not rushed.
After you know you're looking for an upgrade, what's the next step?
Make Contact with a Sales Territory Manager
Contact the local territory manager in your respective area. You can expect a brief introductory phone call discuss the plan basics as well as the timeline.
After that, there will be a site visit to dive further into details of the project. At this time, the rep will take physical measurements of the room, accounting for all windows, doors, and other space limitations, and they will also discuss equipment, such as monitor size and quantity, number of CPUs, etc. Then all of this information gets delivered to our team of accredited designers. From there, it takes around two weeks to create a drawing and a quote.
Work Out the Colors and Cables
After the site visit, your rep will leave you with color selections for the finishes. This will include our new Eagle line, and you'll be able to choose from a number of panel, melamine, and laminate colors. You will also be given a cable sheet. This is a good form to give to IT to ensure we have the correct cable selections for your monitors. (Also, doing this now will save time and hassle later on in the process.)
Download Xybix's Eagle finish brochure for color selection choices and materials.
Get the Design Down and Start Building
Moving forward, look for contact from your rep to discuss the initial design. Setting up a GoToMeeting is typically beneficial so that you can discuss the layout and make any changes in real-time. At this time, revisions can be made if necessary; generally speaking, it takes an additional week per revision. After the design is finalized and the contract has been received, we are ready to start building!
From the time the paperwork is received, we typically have an eight-week lead time for manufacturing and installation. Then.... the exciting part! Your consoles will then be ready to go live!
How Long Does it Take?
In conclusion, your hunt for new dispatch consoles can take around three months on the accelerated fast track, but most projects will take between 6-12 months. The sooner you start, the more prepared you will be, and the quicker you'll have a brand new comm center to enjoy!