There are about a half dozen imaging furniture manufacturers that have been in the business over the last couple of decades, so selecting the right manufacturer should be an easy decision. The truth is that it is if you do your homework and don't just pick one that promises the world or advertises in every possible venue.
Ask the Obvious Questions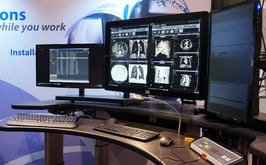 To help you find the right manufacturer for your imaging furniture needs, here are a dozen questions you need to answer that will address the obvious:
Does the provider offer true dual-surface desks with both surfaces being capable of moving from 22" to 50"?

Is the focal depth of the monitors adjustable up to 10", and can you move all of the monitors together?