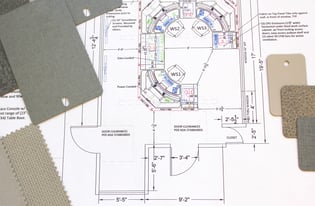 Does a car come in only one color? No – so why should your dispatch furniture. Selecting colors and finishes for your new center can be difficult and overwhelming, especially since there are so many different selections. Here is a step-by-step guide to help you choose the right colors and textures for your next furniture project.
If you have selected Xybix as your furniture vendor, as part of the process to finalize an order, finish material must be selected from the Xybix Standard Finishes brochure.
What comes first, the paint or the furniture?
Choosing your furniture first can help you to select a room color palette more naturally. Remember: paint colors are infinite, while furniture only comes in a specific variety of colors.
Step One: Examine your room – Wall paint color, carpet (new or re-used), temperament, etc. It has been said that there is scientific correlation on how color influences feeling, but there are also personal ones as well. I also recommend getting a second opinion from someone who also is in the room.
Review the location of the furniture colors that you will be choosing and what options there are. A standard color selection typically includes three to four panels fabrics, three 3D laminates and one melamine option to coordinate. As you can see, plenty of options.
Step Two: On to the Panels! The Xybix panel skeleton (Panel Trim) is black 14 gauge cold rolled, powder coated steel. The panel tiles can be fabric covered, 3D laminate tiles, or glass tiles. You can use two separate colors or finishes for tiles (one for the top and one for the bottom tiles).
Keep in mind the 3D laminate and glass options are priced separately and pricing my vary.
Step Three: Now you can select your 3D laminate for the work surfaces AND select a laminate for the front of cabinets. Xybix now offers an option of textured wood grain for the workstation surfaces as well as smooth.
Step Four: Lastly, select one Melamine for all vertical cabinetry surfaces.
Don't worry! If you don't see the color that best matches what you are looking for out of the Standard Options – we got you! We offer upgraded customized design solutions. Your territory manager review other options available to you, and together we can match any room or design for the perfect solution.
Always contact your rep for the latest finish selection offerings as materials may vary or be discontinued.