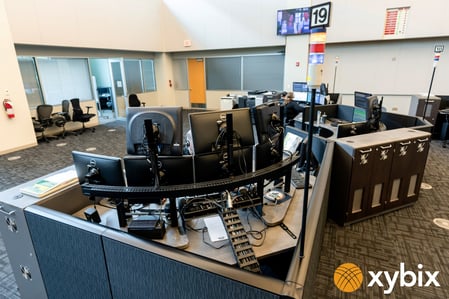 Xybix's Eagle Line dispatch consoles have been taking over comm centers and PSAPs for over a year now, but why are these consoles here to stay? Let me help you experience the Eagle Difference.
What's the Eagle Difference?
The most noticeable difference in the Eagle consoles is the 3D laminate beveled edge. The black edging on the worksurface of past consoles has been replaced with a seamless, contoured edge.
That's right. No more rubber bumper that brings you back to your elementary school desk days. Instead, the new laminate is adhered with both pressure and heat, making the desk top super durable and resistant to surface wear. That means no more edges for dispatchers to pick at during their long, stressful shifts!
The sleek new edging not only makes the consoles look more modern, but also is resistant to surface bacteria and germs. Not to mention, it's more comfortable and ergonomic to rest your wrists and forearms. Overall, this edge is a winner in comfort, style, and health in a dispatch center!
What Other Benefits Does the Eagle Line Offer?

Monitor Focal Depth Adjustment Update
The Eagle consoles still showcase Xybix's patented Rollervision focal-depth adjustment, but now they have new user sight line benefits. When you add a second row of monitors, the new Rollervision provides a single connection point with a bar and knuckle system. Previously, a second tier of monitors sat on a long bar that hung over any surface area that didn't house a monitor. Now just a knuckle and vertical bar mounts the monitor in place. This makes it very easy to move monitors when upgrading to larger screens, as well as helping to improve sight lines.
Renewed Finishes and Design
With the Eagle Line, you also get better finish and aesthetic options. You are now able to choose different colors and textures for your work surfaces, cabinet doors, and panel systems. Selections include: wood grains, stone patterns, and matte solids. The new colors make for a modern and sleek environment that will look new for years to come, not to mention durability to last the test of time!
Personal Climate Controls & More
Rounding out this new sleek look is the updated personal climate controls, which are, as we know, the most important aspect of any dispatch console. The updated heaters on the rear surface swivel to allow you to point up and/or down for both hand and foot warmth! New, low-profile task lights dim or brighten the keyboard surface only, allowing for direct light just where you need it most. Finally, the space-saving USB keyboard/mouse cable connection trough or DataDock runs along the back of the keyboard surface or flips up on our single surface console for easy plug-and-play connectivity.
The Xybix Eagle Consoles lead the industry in durability, ergonomics, design, and comfort. We encourage you to check out Xybix's new Eagle consoles at a dispatch center near you!