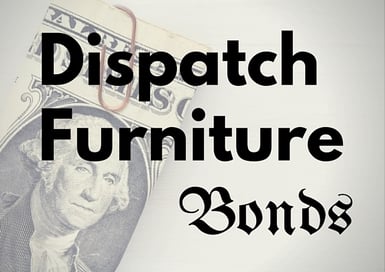 You're about to launch a project to upgrade your center that includes a dispatch furniture purchase. When you meet with your committee or supervisor, what is the most common thing you'll hear? "For the amount of money we're spending, we need furniture that will LAST."
And they're right. But not only does the furniture need to last...so does the company that builds it. Why? If the company isn't around to honor the warranty that they proudly sell, then what's it worth? And even more so, why select a company who takes your order to build the furniture but cannot produce the cash needed to build and deliver their product?
Knowing how financially strong a furniture vendor is plays a big part in your selection. But how do you truly know? Well...it's pretty simple. You can request a "bond" for your bids.
Why Are Bonds So Important?
When hiring for a furniture project, these bonds are important for the obvious reasons stated below:
They'll secure or back the original bid from the furniture company.
They'll ensure you're not left at fault for unpaid subcontractors or materials providers.
They'll make sure the project is completed to your contract's specifications or that you're compensated for any unfinished/faulty work.
Bonds are also imperative for another important reason. They will help you choose a stable and reliable company to execute your furniture needs.
In order for someone to be granted a bond, they have to go through a similar screening process as someone applying for a loan, meaning they aren't just handed out to anyone who asks. Insurance companies that provide bonds for furniture manufacturers will do the hard work and investigate the company's books, financial history, and risks to you as a customer. If the insurance company will not bond them, you certainly don't want them either.
Here are a few items that bonding companies look for:
Financial stability--they take credit reports, reported earnings, and payments to subcontractors/employees into account.
Business success and history--bonding companies look at how a furniture company operates and how long it's been around. They'll only back a company if they feel it has a long, prosperous future ahead and if they're capable of proving a successful business history.
Business size--the bonding company will evaluate the furniture provider to ensure they have the ability and manpower to take on your project in addition to what's already on their plate.
This is why requiring the proper bonds is part of your due diligence when seeking a furniture provider. Not all companies will qualify, and finding the ones who can is a big part of protecting your dispatch furniture investment. Even if a company boasts about their lengthy warranties, what good does a warranty do if the company isn't financially sound enough to stay in business and uphold it?
There are three types of bonds typically purchased when starting a project: bid bonds, payment bonds, and performance bonds. It's important to note the key differences between these bonds to ensure that all bases are covered when hiring a furniture company, but because these bonds are quite easy to get mixed up, many project owners mistake one for the other.
To help you better understand what each bond's purpose and importance is, here's what you need to know:
Bid Bonds
When project owners are in need of a furniture company and advertise a request for proposal (RFP), it's important to require that each proposal includes a bid bond bought by a surety.
A bid bond helps assure the quote that the company gives the project owner is secured, meaning that the furniture company can't quote an extremely low dollar amount in order to land the job and then later say that the number is too low and will cost more.
If the company were to back out of the original project bid and refuse to fulfill the contract requirements, the project owner could file a claim against the bid bond.
Payment Bonds
If the furniture company that a project owner hired neglected to pay its subcontractors, materials providers, or any other entity it hired to help complete the project, a payment bond ensures that the unpaid parties will get their compensation.
This protects both the project owner and the laborers because the liability falls on the surety who sold the payment bond. This means that unpaid subcontractors or materials suppliers can't take legal action against you the project manager for any unpaid work; instead, they would file the claim against the payment bond.
Performance Bonds
A performance bond is issued to protect the project owner in case the hired furniture company fails to fulfill the obligations outlined in the contract.
If the company were to go out of business while the project was in development, if the construction work was faulty and inoperative, or if any circumstances prevented the contract requirements from being fully met, the project owner could file a claim against the performance bond, ensuring they get compensated for the dollar amount that they lost, usually up to the amount of the performance bond's worth. This compensation is designed to help the owner continue the incomplete work and fix any faulty furniture issues.
Xybix is proud to offer lifetime warranties on all of the products we manufacture because we know that we're good for it, and we also know we're trustworthy for any bonds that you require. All of our products meet BIFMA standards, and our consistent quality and success should leave you confident that our company will be here as long as you own the furniture. Our bonds and warranties are backed by products that last and are issued by a company that lasts--you can feel secure about your project with us!