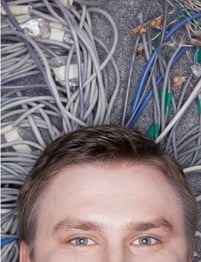 My oldest son's 17th birthday was on March 2nd. As many of you know, it's incredible how kids change and grow by that age. As all parents feel about their children, I am so proud of him and what he has done so far in his life that I cannot say enough good things.
This brings me around to a Xybix installation job that I visited which installed in 1999. This means it was shortly before my son was even born. Just like my son has changed, how we build our dispatch consoles and even how we run the business at Xybix has transformed as well.
What Do You Get With an 18-Year-Old Install?
I'm happy to report that after revisiting the installation site, everything looked good. All of the work surfaces were in tip-top shape, and there was very minimal scratches and dings. The mobile pedestals were still operating and being used with minimal wear and tear. The panels also looked good, as I saw no sagging of the fabric and very few stains. Overall it looked great!
Cable Management Matters
Back then, we did not have any sort of cable management. When we first got into the market, we ran the cables through the technology cable pathway (panels). We quickly figured out that running the cables through the panel system, was awful when it came to accessing them. (I don't think the tech crew liked us very much in 1999.)
Since then, we have made huge improvements in cable management. As we know, it helps your team keep the dispatch console clean and tidy. Xybix was the first company to come out with an energy chain to manage all the cables to the moving surfaces. The idea came from when we saw a larger version on our Computer Numerical Control (CNC) machine, and after looking at it for a few years, the light bulb finally went on, resulting in us figuring out how to integrate this type of cable management into the consoles.
Xybix Just Gets Better With Age
Actually, everything we make is better. You should see our new machines and how accurate and smoothly they cut out parts. It is satisfying and fun to watch the robots do their work. That being said, we don't rely too much on the robots because we have such a great team. The engineering power we have now is much better than in 1999. We also didn't even have a marketing department in 1999; we just had one designer. We've since then expanded our team greatly and worked hard to create the best user experience for those who depend on our consoles.
As proud as I am of my son and all he has done, I have the same kinship with the Xybix team. Nothing is better than watching the team grow and meet their life goals with Xybix being a big part of that. So when I return from an 18 year old project and show them how it is still holding up well, we all take pride in what we can do together and what has been accomplished. We have made great strides since 1999 and I really love what Xybix has done to give each of our customers more value with every project.