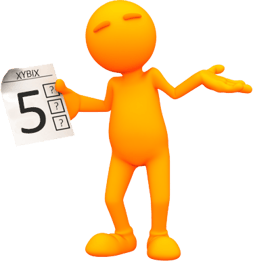 Maybe you're reading this and you've just started researching for an upcoming dispatch furniture project? Maybe you're already a die hard Xybix fan? Maybe you're just plain curious? That was definitely me just a few months ago--curious. I had quite a few questions about the new company I started working for. What does Xybix do? What makes them special? How do they operate? What does "Xybix" even mean? If you're wondering the same things, check out these 5 things I learned when I joined the Xybix team:
1) They're an all-American, family-owned company: If you want to know how Xybix started, picture a homegrown story of a dad and his two sons making a career out of their passion for ergonomics and customer service. Yes, the American dream totally still exists in the 21st century. Also, they are based in Littleton, Colorado this is where Xybix's operations is, including the manufacturing facility, the engineering center, and yes, even the customer service call center. The only exception to that is the ten local territory managers in various regions of the country.
2) The name "Xybix" is an ode to mom: Xybix started out as ErgoFlex for ergonomics and flexibility. After outgrowing the garage and starting to sell nationally the company needed a name that didn't conflict with the other ErgoFlexs' out there. This was 1994 and the internet was not what it is now. Each search the owners did through a trademark attorney cost $800. After spending nearly $1,600 on two searches that were already taken, they decided to make up their own name. Not too long before that Grandma Dorothy Bicksler (Bix was a nickname) had died and the owners of Xybix put all their inheritance money into the business. They decided to credit where it was due and the rest was history. (Ask owner, Ken Carson where they X and Y came from if you really want to know.)
3) Custom furniture really means custom: I'll be the first to admit that when I thought of a furniture company, I envisioned a huge IKEA-like warehouse with an assembly line-style setup. However, I was completely wrong. Every project at Xybix is built to order, so every project is unique and requires personal, undivided attention.
4) But seriously, how custom can you make a custom desk? This answer has a few moving parts (no pun intended). If you work at a dispatch center, your neighbor probably has a different setup when it comes to the number of monitors, keyboards, phones, etc. These setups are probably different from the supervisor's setup, and they're all probably different from the center in the next county over. Also, did you know airports, college campus safety centers, hospitals, and even some navy bases use height-adjustable furniture? They do, and yep, you guessed it--they're ALL different. Because each client has a different set of requirements, Xybix completes each order to fit the unique needs of who the furniture will be serving.
5) But all these furniture companies talk about being custom, so what's the difference? Xybix is really all about two things. Well, they're about a lot of things, but for this newbie, there are two things that really stand out: ergonomics and customer experience.
Xybix has incorporated ergonomics behind every aspect of their equipment. From the dual-surfaces to their patented Rollervision technology, Xybix truly designs their products with your health and comfort in mind.

The customer experience is well-crafted from start to finish. As I mentioned above, there are ten local territory managers that will come and meet with you to gather measurements and discuss your needs and requirements when starting a project. From there, you're introduced to one of our dedicated designers who continues to work with you in order to execute your vision. This whole process is as much "set it and forget it" as it is perfectly interactive. What I mean is that Xybix likes to do things right the first time, meaning that we're thorough when we're with the customer and efficient when the ball is in our court. Lastly, in the customer experience is the ongoing care that is provided by our in-house customer service specialists. Did you catch the difference? Xybix is all about the individual customer's needs, and we introduce a Xybix expert for each phase of the project. Basically, by the end of a project, you've pretty much been introduced to the whole Xybix family.
As you can see, Xybix truly goes above and beyond in order to make our furniture durable and our customers happy, as we don't consider a project complete until it meets the needs of the original vision. We're founded on family values, and we understand that our clients are the foundation to our success. That being said, welcome to the family!