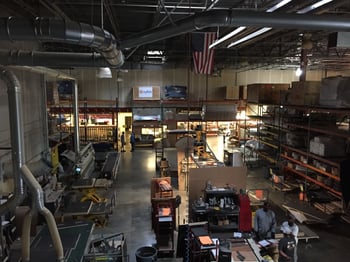 When it comes to purchasing dispatch furniture, there are many reasons why touring the manufacturing facility that you're buying furniture from can be beneficial. Why should you take the time to do this? Why is it important to know how manufacturers build their furniture? Why is a plant visit a critical part of due diligence?
Over the past year, Xybix has had several visitors to our manufacturing facility in Littleton, Colorado. It's fun to have visitors from all over the US and Canada come to see where the magic happens! This is a chance to see firsthand how our creativity and expertise blend together. So, what's the big deal and why is it important to know how everything is built?
One recent visitor came to Xybix as part of his due diligence. It was important to him to see a scaled ability to manage large orders or unique customized requests, also how order changes and requests would be managed. Additionally he wanted to meet with the design crew to better discuss their workflow concerns.
After the walk through here's what he had to say:
"You guys have a very clean and efficient place."

"The processes you have in place are impressive."

"I can see the mountains from here!"
Okay, so it's not just about the mountains (although we do have a great view). It's important to walk through and witness the process in which something is made because how something is built and what it is built with certainly relates to how dependable and long-lasting it is. Also, keep in mind that the cost it takes to build the furniture is passed down to the customer, meaning the manufacturer needs to have a solid grasp on how to minimize costs.
Xybix has implemented a variety of lean processes to improve how we build furniture. We utilize the Kanban system and a 5-S implementation plan, along with Lean workflows, and as a result, we are extremely efficient as a company. We don't waste time or money, and this means our production costs go down and our furniture becomes more affordable.
Speaking of efficiency, when loading a shipment we like to think ahead. One large client of ours said, "I was really impressed at how the three semi-trucks were unloaded. You had the consoles loaded in an order, so the first ones off were the ones to install at the back of the facility!" Yup. It's about planning for the future and not wasting time or energy.
When you shop around for console furniture, be sure to visit the manufacturing facility where it's made, and pay attention to the processes implemented to build it. After all, you're making an investment (and the vendor should be too).
If you're ever in Denver, stop by our location! We'd love to see you and give you a personal tour; heck, we may even take you out for a soda (or a microbrew!) as we watch the sun set on the Rockies.