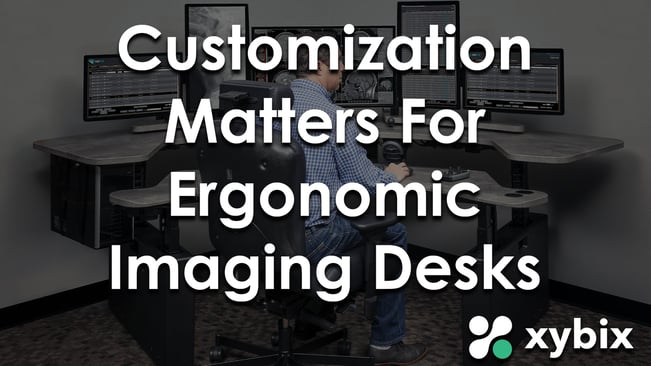 Ergonomic imaging desks are designed to help radiologists stay comfortable and productive while they work. But not all ergonomic desks are created equal. Some are more customizable than others, which is important for many reasons related to the health, safety, and morale of radiologists. And being customizable is not enough—the process of adjusting the desk needs to be so easy that it's second nature to the radiologist coming on shift or needing a boost throughout the day.
Read on for the customizations to look for while shopping for ergonomic imaging desks. As a bonus, we've added three tips on finding the right desks for healthcare environments.
4 Customizable Features that Matter
When researching ergonomic imaging desks, look for the following customization options—and then be sure they are easy to use. All the ergonomic features in the world will not matter if users do not take the time to customize the desk to their body, sitting or standing, and their equipment.
Offer the flexibility to sit or stand. Ergonomic imaging desks must first allow radiologists the option to sit or stand throughout the day, which is shown to increase productivity and decrease musculoskeletal pain

. Studies recommend a

sit-to-stand ratio

between 1:1 and 1:3 hours, so the imaging desk needs to raise and lower seamlessly. Ideally, the desk height adjusts with one touch and settings are saved for different users.

Adjust to the perfect desktop height to prevent repetitive stress injuries. The desktop height is the key to avoiding carpal tunnel, tendonitis, mouse shoulder, and a range of other aches and pains that can turn into long-term trouble. But what is the "perfect" desktop height? It's different for each person, so you need a desk that adjusts for users of all sizes. The gold standard in height adjustability is meeting the ANSI/HFES 100-2007 Human Factors Engineering of Computer Workstations requirement that the desktop move independently from 22" to 48". This ensures that users of all heights, from the 5th percentile sitting to the 95th percentile standing, can adjust to the perfect desktop height.
Prevent eyestrain, headaches, and neck pain with adjustable monitor arrays. For imaging desks, the monitor array literally faces a heavy lift. The Radiology monitors are heavy, the cables often need to be close to the CPU for maximum resolution, and cable management features are a must to prevent trips and falls (of both monitors and persons). Aside from these IT considerations, the radiologist must be able to adjust the angle and focal distance of the monitors on the fly to reduce the eyestrain, headaches, and neck pain related to long hours of peering at screens.
Reduce eyestrain with personalized lighting. To check paperwork in dim reading rooms, imaging desks should provide task lighting. In addition, to reduce glare and improve contrast, they may provide bias (or background) lighting. For the ultimate customization, radiologists should be able to select the color of the bias lighting to suit their preferences and even complement their circadian rhythms

throughout the day. As with other adjustments, lighting changes need to be at the radiologist's fingertips.
To see how Xybix makes all these customizations a snap, see the video below. Plus, check out the patented Rollervision system, which provides the monitor handling and adjustments that both IT and radiology appreciate.
3 Tips for Selecting Quality Imaging Desks
The ability to customize imaging desks to each user is clearly important to ensuring a healthy and productive workplace for radiologists. But beyond customization, considering the quality and construction of the desks is crucial for 24/7 healthcare environments. While shopping for imaging desks, look into the following:
Durable Materials and Construction. To keep the radiology room running, the desks need to remain functional. They can't be stuck in one position or unable to hold the weight of a new monitor. Look for BIFMA

performance testing, a 10-year parts and labor warranty, a lifetime warranty on non-electrical components, and 24/7 access to

customer service.

If you need help with the legalese in warranties, check out these

tips.


Healthy Materials. To protect indoor air quality, look for imaging desks with

GREENGUARD Certification

.

This certification ensures low chemical emissions through independent testing every quarter. Xybix products

have earned

GREENGUARD Gold Certification

, which includes more health-based criteria to ensure that products are acceptable for use in schools and healthcare facilities. The certification ensures that all parts of the console—even the 3D laminate desktop—meet the most stringent chemical emission standards in the world.



Easy to Clean.

For a clean workspace, look for desk materials that prevent staining and hold up to disinfectants. Third-party testing ensures that the

3D laminate

Xybix

uses resists common residues (such as coffee) and withstands commercial disinfectants and cleaning materials.
By following these tips, you can choose ergonomic imaging desks are easily adjustable to fit all radiologists (sitting or standing), are designed to prevent eyestrain and repetitive stress injuries, will accommodate the technologies of today (and tomorrow), and are built to last.
We would love to show you in person! If you're attending RSNA 2023, stop by our booth. We're Booth #7933 on Level 3 of the North Hall (See Map Below):