How much and how long should I sit or stand at my desk? There is no perfect combo for this because everyone is different. Here is what we do know; static standing all the time is harmful for you, and too much sedentary activty, such as sitting, is harmful too. It begs the question, what is the perfect combo? What combination works for you, might not work for the next person. Experts recommend, breaking it up or alternating between positions. This is actually what is best for the body – in its simplest form, we are talking about movement.
Here is what's recommended:
This health article recommends: For every 1 to 2 hours you sit in your office, 1 hour should be spent standing. Try to alternate between sitting and standing every 30 to 60 minutes.
A study by the University of Waterloo, recommends that the ideal sit-stand ratio lies somewhere between 1:1 and 1:3. Guess that's up for your own interpretation.
Experts agree that you should work towards spending half of your day sitting and half of it standing, ideally switching between the two every 15-30 minutes. (Why 15-30 minutes? Because after just 30 minutes of sitting, your metabolism slows by as much as 90% and the muscles in your lower body turn off.)
Posture: Don't forget about how you're body is positioned while sitting or standing? Be mindful of how you do either activity. This can have an impact on how you feel. For example, you might feel like your back hurts while standing if you're not standing evenly on your feet. (I tend to stand with my hip out) Try not to hunch or roll your shoulders inward. Have your knees and elbows at 90 degrees.
Ergonomics still apply: Recommended ergonomic position applies for both seated and standing positions. Be mindful of this as standing incorrectly while working can be just as harmful as sitting.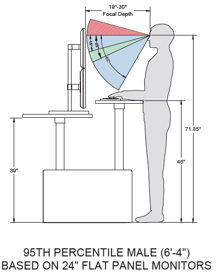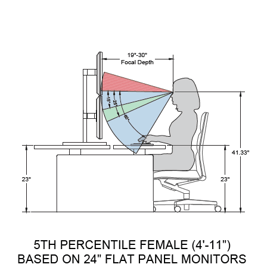 Logical Thinking: Still wondering which is best, sitting or standing? If your goal is weight loss, you might want to consider calories burned doing either position. How many calories are burned sitting vs. standing?
There's no exact answer. But the National Institutes of Health tells us that in an hour the average 170 lb. person burns:
134 calories sitting
206 calories standing
296 calories walking at a moderate pace
341 calories walking briskly
As you can tell, there is no definitive answer for how much you should sit or stand, the best thing you can do throughout your day is MOVE!




Here are some more blogs on height adjustable desks
Help! Our Height-Adjustable Workstations Never Get Used
Height Adjustable Desks for the 21st Century Employee
Height Adjustable Desks - Fad or Favorite?
A Review of the Most Commonly Found Height Adjustable Desks