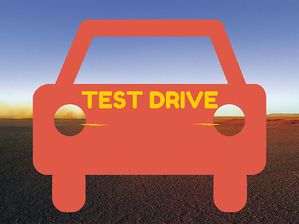 When you are looking to purchase a new automobile do you run out and sign papers without seeing or driving the car? No way! You go to the dealership, take a look, and then take that puppy out for a spin. Am I right?
When you want to purchase a new house… Do you send over the offer letter to your agent without seeing the house? No way! Who would do that? You schedule a meeting with your agent to visit the house, take a peek, make sure everything is just right and then once you determine it's a fit you sign the offer letter.
Ok, now that I have everyone thinking about new purchases, let's focus on dispatch consoles for your dispatch center.
You have recently decided it's time to upgrade your worn out, old, or should I say "antique", consoles. They have seen a better day! For most of us purchasing new height adjustable consoles is a new experience. Well, unless you work for the manufacturer of said product, such as Xybix. If you have never made a purchase like this before how do you know what you want? An even better question would be, how do you know what you need? Sure it's overwhelming, it's a large purchase and one that requires extensive research and begging for the budget to make your dream come true! What if there was a way to help you get a better understanding of dispatch consoles? How they function? What features are available? But, wait...there is a way!
I want to discuss with you options that are available for you to test drive the product before you purchase it. Just like you would with a new car or a new home!
One of the best options available to you to get first-hand knowledge of our product, warehouse and team. Come on out to our corporate headquarters in Littleton, Colorado! We are a short drive from the airport and downtown Denver. We have several demo models setup to show you exactly how user friendly and durable our dispatch consoles are. We have staff available Monday-Friday to give you a tour of our manufacturing facility as well.
If a trip to Colorado isn't on your agenda there are a few other options available to get a sneak peak of our dispatch consoles. Here is a list of the national conferences that we participate in yearly.
Conferences
Navigator: Educational conference for police, fire, and medical dispatch. (yearly in April)
NENA: Serves the public safety community as the only professional organization solely focused on 9-1-1 policy, technology, operations, and educational issues. (yearly in June)
APCO: Public safety communications professionals committed to providing complete public safety communication expertise, professional development, technical assistance, advocacy and outreach to benefit our members and the public. (yearly in August)
Canada APCO: Dedicated to the enhancement of public safety communications. It serves the people who supply, install and operate the Emergency Communication Systems used around Canada from coast to coast. (yearly in November)
Another great option available is to take a tour of an existing Xybix customer's site. Our clients are always excited to show off their new consoles and to offer feedback on their experiences. Reach out to your local Xybix territory manager to schedule a tour at your convenience.
If you are located on the southeast coast we have a partner showroom that has Xybix furniture setup. Our good friends at AVTEC, located in Lexington, South Carolina, have a full working Xybix console on site. If you are interested in visiting a facility or scheduling a demo you can reach out to me at cheri@xybix.com to schedule a meeting.
Now that I have shown you ways that you can "try before you buy" I hope you feel more comfortable with the process of purchasing new dispatch consoles. If you have any questions or concerns you can always pick up the phone and give us a call!