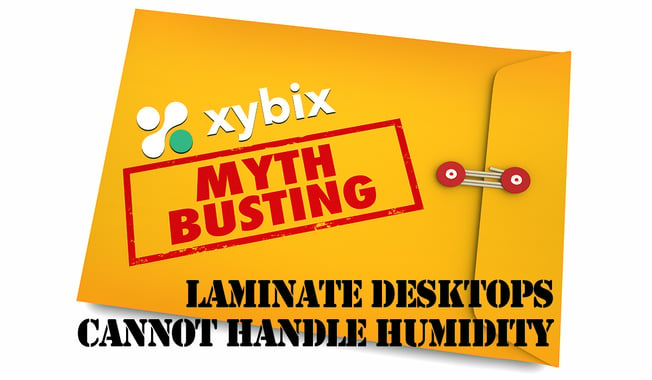 As I write this—on May 19, 2022—forecasters are predicting that it will snow tomorrow in Denver. But I know that other parts of the country are already enjoying relative humidity in the range of 70, 80 and even 90 percent. Which brings me to an old myth that seems to circle back on us: That you shouldn't buy desks with laminate tops if you live in a humid client. I'm always happy to debunk this myth because I hate for people to miss out on all the benefits of 3D laminate. Let's take a deeper look.
Fact: Laminate flooring and countertops can be impacted by water and humidity. Fiction: This fact applies to all types of laminate, including 3D laminate desktops. The fact is that properly engineered and applied 3D laminate guarantees a desktop that holds up to both water and humidity. Moisture will not get through or under a wraparound 3D laminate—and just like MythBusters, I set out to prove it.
Now, do I think that soaking a piece of 3D laminate desktop in water for 24 hours means that it can withstand constant humidity and the occasional coffee and Coke spill? Well, yes, I do. We know from experience that nothing penetrates high-quality, properly applied 3D laminate.
If you're on the hunt for new dispatch consoles, healthcare workstations, and command center desks, let me share a few specific tips on what to look for in 3D laminate.
Seamless: The desk should be wrapped in 3D laminate as seams are notorious for trapping crumbs and bacteria not to mention peeling up and scratching our skin and snagging our clothes.
Easy to Clean: The surface should hold up to the type of cleaners and constant cleanings required in 24/7 environments with shared desks.
Class-A Fire Rating: The surface should have a Class A fire rating, which indicates a low flame spread rating between 0 and 25. (For context, most commercial wood species have a flame spread index between 90 and 160.)
Low-VOC Certification: For healthy indoor air, the desk materials should have GREENGUARD Gold
Resist Staining and Cross-contamination: Check for third-party testing on staining, etching, and cross-contamination for all levels of commercial disinfection and cleaning materials.
If you have any questions about 3D laminate desktops—or anything else—reach out as we're here to help!