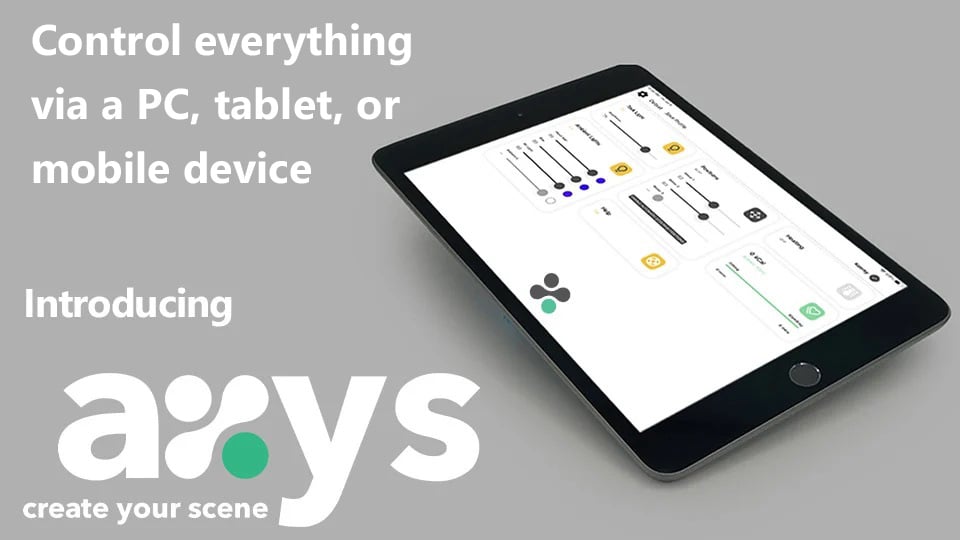 A core value at Xybix is innovation, and it's not just something we say or print on T-shirts. Innovation is something we live as we're truly excited to solve customer problems and design products for a healthier and more productive workplace. I'm excited to share our latest innovation—the first-ever smart workstation that adjusts to all your preferences with a single touch of a button. We call this Axys because your entire workstation will revolve around you, your needs, and your moods throughout the day.
You're the Star of Every Scene
With Axys, you can create an unlimited number of presets—called scenes—that reflect how you work best throughout the day. Simply press a button and your scenes come to life in seconds, adjusting your desk height, monitor placement, lighting, temperature and more. Imagine this:
Arrival Scene:

When you get to work, whether it's for day or night shift, you want to be raring to go. Start out standing to get your blood pumping, turn on the heater to warm up from the commute, and activate

blue lights

to help you wake up.

You can't stand all day

, so switch to a seated scene after an hour or so.
After-Break Scene:

After a mid-shift meal, you might need to perk up a bit. Try yellow background lighting for

confidence and creativity

, bright task lighting, a gentle breeze from the fan and the standing desk.
Home Stretch Scene:

Towards the end of your shift, you may be ready to take a load off but you want to remain alert. While seated, pump your fan up to full speed and switch to green lighting for balance.
Expect your productivity, accuracy and morale to soar as you star in every scene of your own making.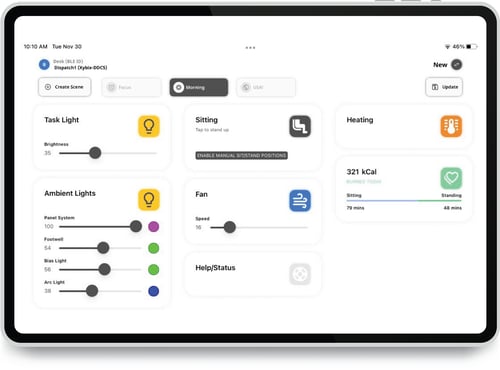 Making a Scene
Creating a scene is as easy as changing a setting on your phone. It takes only seconds and pays off in kindness to your body and mind through proper ergonomics and personal comfort. Set the options in the intuitive Axys interface, name your scene and you're good to go. And if you happen to love how your workstation is right now, login to Axys and save the current settings as a scene. Scenes can include:
Desktop heights

Monitor shelf height

Task lighting color + brightness

Bias lighting color + brightness

Panel acrylic lighting color + brightness

Heating

Cooling fan speeds

Additional features (like calorie/fitness tracking)
The great thing about scenes is that the options are limitless—and they are yours. See scenes in action here and reach out to your Xybix rep to learn more.