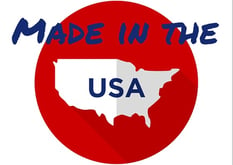 I read on a 911 blog how a dispatcher felt that it was a great benefit that a company made their products in the USA. This got me thinking; does it really matter? I don't hear that as a major part of the decision-making process for most centers, so it got me wondering about a couple of things.
Does it matter nowadays? Does American-made mean something is better quality? If a government entity, such as a 911 center, is buying products made in the USA, how does that benefit you?
Let's take a look at some of the perks of buying products made in the USA:
Money you spend on an American manufacturer goes to payroll for American employees

. This gives you a small role in sculpting the American dream for these people. Here at Xybix, we have many employees who have gifted us with over ten years of service. We get to celebrate when they get their first new car or move into their first house. The best part is when they get to send their kids to college. When you buy American, you play a small part in helping those dreams become a reality.
An American company pays taxes on income, property, purchasing, etc

. This revenue goes back to your agency, as small businesses are a big driver in the U.S. economy. On the other end of the spectrum, buying from foreign companies brings zero dollars back to our police, fire and EMS agencies.
The dispatch furniture market requires custom-made consoles and expert design for each project, and American companies can produce custom manufacturing with shorter lead times. Warranty parts do not need to get held up in customs when you buy from American manufacturers, and you can also get a professional designer to help with the room. Even still, some companies outsource their design to save money.
So, does it matter to you if your dispatch consoles are made in America or not? We all make these choices day-to-day with everything we buy, but many people aren't aware that their decisions make such a big impact.
So, what dispatch furniture companies are American companies?
Xybix

Watson

Russ Bassett

Eaton
What companies are Canadian-based?
The best part about buying from American manufacturers is that as a dispatcher, the selection and quality of the dispatch furniture is truly better than ever.
There you have it; hopefully if it wasn't clear to you before, this article has highlighted why buying products that are made in America is good for you, the economy, and our society.