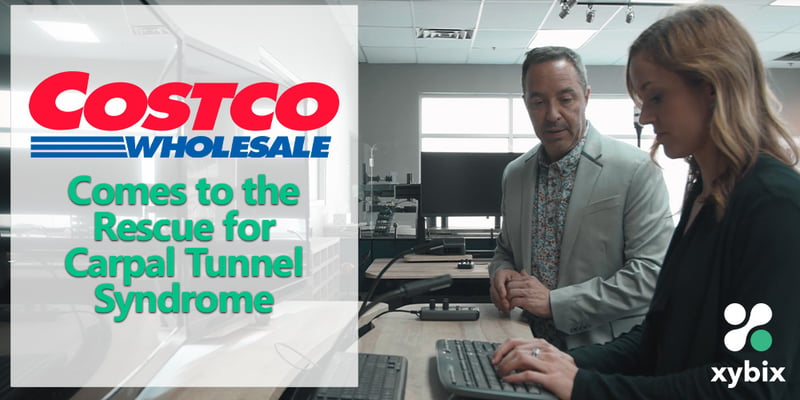 It's a happy day in my house when the Costco Connection magazine arrives. Flipping through it is like an extension of the treasure hunt that is a trip through the Costco warehouse. The latest issue had the last thing I would expect from my favorite purveyor of paper towels—some really good information on carpal tunnel syndrome (CTS).
Obviously, the story on CTS caught my eye because I'm always preaching about preventing repetitive stress injuries. In "Helping hands: Preventing, identifying and treating carpal tunnel syndrome," Costco shares details on the symptoms, prevalence, causes and treatments for CTS. And, music to my ears, 14 words on prevention: "Use correct posture and keep your wrists in a neutral position at your workstation."
The key to maintaining correct posture and neutral wrists is the desktop height. Since we're all far from the same size, you'll need an adjustable-height desk to get your wrists and hands in the right position, whether sitting or standing. Xybix sit-to-stand consoles exceed ergonomic standards with a range of 22"–48", accommodating people from 4'11" to 6'2".
If you're not quite sure about the desk height, check out my videos on configuring your desk for standing or sitting. First, I touch on focal depth to protect your eyes and then about halfway through I talk about achieving a neutral wrist that would make my grade-school piano teacher proud. If your height-adjustable desk is like ours at Xybix, a digital readout shows the desk position and you can simply remember your standing and sitting numbers.
You don't need to take Costco's word on CTS—or my word, for that matter. WebMD agrees: "If you can, avoid bending your wrist all the way up or down. When you keep your wrist in a straight, neutral position, it takes the pressure off your median nerve." Maintaining a neutral wrist helps prevent tendonitis in addition to CTS.
I know it can take a while to get used to a new position—and to resist the temptation to rest your arms on the desk while you're typing. But the effort is worth it to prevent the pain and possible permanent damage.
Let me leave you with a funny story about CTS: I made it to a jury—and served as head juror—on a carpal tunnel surgery case. I thought that my experience with the topic would get me out of court. No such luck.
If you have any other questions about ergonomics, feel free to reach out.