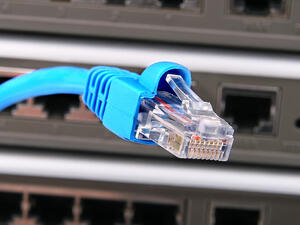 If you are in the process of remodeling, renovating or just updating your 911 Dispatch Center, this article is for you. Customers often ask which type of cabling they should use for their dispatch center and as the National Installation Manager for Xybix Systems, Inc. I am well versed with this topic. Let's start with the basics: Cat6 and Cat6a are designed for ethernet /data and phone cabling. The differences don't become clear until you start looking at speed and distance of the two very different cables.
Cat6 cable is rated for 250 MHz, so it has a maximum length of 37-55 meters when used for 10gigabit applications.
Cat6a cable doubles the capability of the CAT6 by performing at up to 500 MHz, which allows 10gigabit to be run over longer distances of up to 100 meters.
Both Cat6 and Cat6a are backward-compatible with the lower rated cables such as Cat3, Cat5, and Cat5e.
The size difference and the physical make up of Cat6 and Cat6a are very different. When the first wave of Category 6a cable came out in 2008, it was 50% larger than the average Cat6. Since then, manufacturers have been able to slim the cable down some, but not very much. Even with the slight loss of bulk, that's still a lot of cable. It also places an unprecedented emphasis on twist; while Cat6 combines tight pair twists with extra insulation to reduce interference, Cat6a uses a flexible plastic support to separate each twisted pair within the cable jacketing
Seeing as how demands for greater bandwidth are constantly on the rise, Cat6a is the smart move. The size and weight issues are more than made up by its overall speed and resistance to interference.
There are just a few things to remember and plan for when you're working with Cat6a cabling:
With the added size of Cat6a comes a significant decrease in capacity not to mention it weighs more than Cat6. This will affect how many cables you'll be able to fit into a cable tray, as well as, where you can place them. Cable tray capacity is drastically reduced when you're using Cat6a cable, because its larger diameter takes up more space.


There may be a few exceptions, but as a general rule of thumb, the larger a cable's diameter is, the larger its bend radius needs to be. The wider bend radius of Cat6a cable requires more room than the tighter bend radius of thinner network cables, so it's important to allow extra space anywhere your Cat6a cables may need to bend, be that behind a wall jack, through your workstations or at the end of a cable tray run.


If you have use cable ties on any type of network cable, it pays to be gentle, because there's always the risk of damage due to over-tightening. Cat6a cable is exceptionally prone to crushing, so it's best to use wider, looser hook or loop style cable ties in place of the plastic zip ties that you'd normally use.


Cat6 cabling comes in convenient pull-box packages, but Cat6a is most widely available on reels. This isn't a problem as long as you have the appropriately-sized stand or cart on hand to unspool the cable and keep it from twisting during your installation.
Lastly, cost can be a factor, but can easily be budgeted for upfront due to the longevity you will get out of using the latest and greatest network cabling on the market. Sure Cat6a takes more time to install and costs more to test. Not to mention the cable itself will add about 25% to your cost. But overall, it will last much longer because it is built better and last for years to come.