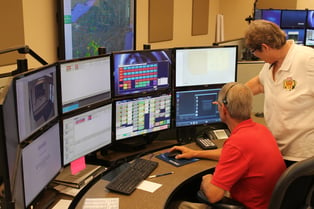 In 2014, we built an entirely new 911 center. Prior to our new center, we were in a basement for 36 years, our last furniture system (a Xybix competitor) we had for over 10 years. "We won't make that mistake again".
From the beginning…
Mike McGrady with MCM Consulting Group, Inc. was our consultant on the project and he recommended Xybix. In the early stages of researching a furniture vendor, Mike suggested we visit Elk County (a Xybix customer). We liked what we saw at Elk County and really trusted Mike's suggestion.

From the beginning stages of planning the new 911 center, we knew that the desk would need to accommodate 4 computers at each position (previous only 3: one with CAD, phone, radio). We also wanted one keyboard one mouse; a radio vendor suggested adding CCSPRO4 for up to 4 computers and up to 16 monitors (different from KVM Switch which requires a button to be pushed). This is small and it sits in the CPU cabinet. (We love it and recommend it to any center.)
Lessons learned…
We used the same color of CAT 6 wires and then labeled them. We used 10 Miles of CAT 6 wire for this project and decided to use 2 different colors. Downside of this was the manufacturer didn't have enough of one color in stock and extra was needed. Using the same colors with labels would have expedited this hiccup.
When building a new 911 center, the power draw of the consoles is an important element that can be overlooked. When electrical was being set up for our new building, it wasn't considered that each dispatch console would require 8amps, and each should be on its own separate circuit, different from that of the monitors and radios.
In the end, we chose Xybix for our dispatch furniture needs (no RFP or 3 quote process). It REALLY helped that Xybix was on state contract pricing (COSTARS).
Do we use the features?
As far as the dispatchers, 50% of the dispatchers will alternate standing and sittingthroughout the day. We have noticed that if someone is on a critical call and a lot of departments are involved – people tend to move into the standing position. Some of the comfort features are also really nice to have. The fan is very powerful and it's also convenient to have a heating option. Having everything operate smoothly, from the desks going up and down to the cabinet doors opening and closing quietly, and even moving our 10 monitors back and forth easily makes for a pleasant user experience. Overall we have been extremely pleased with the new center and are happy to say it was a success.