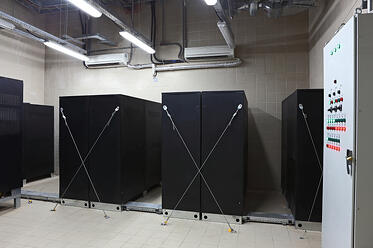 What is a UPS power source?
An uninterruptible power supply, uninterruptible power source, UPS or battery backup is an electrical unit that provides emergency power to a load when the building power fails. A UPS is very different from auxiliary power or an emergency generator in that it will provide near-instantaneous protection from building power interruptions by supplying power stored in batteries. The-battery runtime of most uninterruptible power sources is relatively short (only a few minutes) but sufficient to start a standby power source or properly shut down your protected equipment.
A UPS is typically used to protect equipment such as computers, monitors, radios, phones and any other electrical equipment where an unexpected power disruption could cause a failure and loss of power. UPS units can range in size based on what equipment you are trying to protect. To protect a single computer without a video monitor would be a 200 VA rating. Larger units would be necessary for powering entire data centers or buildings. The world's largest UPS, the 46 MW, Battery Electric Storage System (BESS), is located in Fairbanks, Alaska and powers the entire city and nearby rural communities during outages.
Types of power commonly found in 911 dispatch centers are:
UPS (Uninterruptible Power Supply)

Emergency Generator Power

Building Power (also known as Dirty Power)
Why should you use a UPS in a 911 Dispatch Center
UPS power will not shut off and will not affect the use of equipment at your workstation. Emergency generator power can have a slight loss of power between the time the main power shuts off to the building and the start up of the generator to act as the temporary power source. The generator is typically set up to come on automatically if there is a loss of building power (this can take up to 15 seconds). Critical equipment such as CAD, radios, phones, etc. should always be plugged into UPS power. Non essential items such as task lights, heaters, adjustable height desks should never be plugged into UPS power unless you are absolutely sure the UPS unit in your dispatch center can handle the extra load.
Please discuss your options for power and what types will be needed in your center with a licensed electrician that has experience in dealing with 24/7 Critical operations.
Important Maintenance and Upgrade Considerations
A very important thing to remember about UPS units, they do not last forever and do become worn out. It is a good practice to check your UPS power on a regular basis. Most units have a read out that shows you how much power is being used and what the capacity of the unit is so you can make sure you are not overloading the unit (this will cause the unit to fail in the event of power loss).
Another very important thing to consider is upgrading your UPS unit or adding additional UPS units that can work simultaneously together whenever you add equipment to your center. The UPS load capacity is often overlooked when adding workstations or equipment due to growth in your dispatch center.
It is very important to keep the UPS power at the top of your list when changing anything in your dispatch center that requires power. It is the lifeline of your business and more importantly, it is the lifeline of the person calling 911.