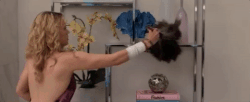 You know that feeling when you get a new car? At first, it's all shiny and new. You take extra care with the buttons, and you do everything possible to avoid spills and stains. The experience of getting new dispatch furniture brings up all of the same feels! After some time, however, your furniture will naturally experience some wear and tear, and you'll need to do a little spring cleaning.
Here is some advice on how to clean your dispatch furniture as well as some tips on what products to use and what ones to avoid:
Countertops and Surfaces
Most stains or spills can come off with water and a paper towel. For removing common office goofs like coffee spills or pencil/pen marks, you might try using Mr. Clean Magic Erasers. You'd be surprised at what they can remove.
As a general rule, disinfectant wipes (Lysol wipes, Clorox wipes, etc.) are typically safe to use on the workstation's legs, panel frames, and counter surfaces. If you like all natural products, I like the Method Surface Cleaner (comes in a variety of scents) it's non-toxic and plant-based. Another favorite I've found is Mrs. Meyer's Clean Day Multi-Surface cleaner with scents like honeysuckle and lilac, its a good way to smell nice and remove dirt.
Removing Dust
It's no secret that there are quite a few bodies and a lot of electricity in a dispatch center, and this creates dust 24/7. Cabinets and surfaces will require a good old-fashioned cleaning more regularly than the rest of your furniture. Using a duster or dry towel will be your best friend when working to prevent dust bunnies from inhabiting your center. I like the swiffer duster with the extendable handle (it helps to get those hard to reach areas).
Fabric Panels
Most spills can be blotted out with a clean, dry towel. If that doesn't do the trick, try using a mild stain remover made specifically for upholstery. You can freshen up your fabrics with fabric disinfectant and deodorizer as well. For best results, look for something pH neutral.
What

NOT

to Use
Now that we've talked about the right way to keep your dispatch workstation clean, it's important to highlight what you shouldn't do. Never use acetone on ANY part of your workstation. Don't use it on the panel frames, on the legs, or on the counter tops. Don't use it anywhere!
It's important to make sure that you use the right products when cleaning your furniture. The right product will help keep it looking new, while the wrong one can cause damage. If you're still not sure how to best keep your furniture spick and span, reach out to your furniture console manufacturer and double check with their Customer Service team. If you follow these steps and regularly clean your consoles, they are sure to look like new even after 10 years of 24/7 use!