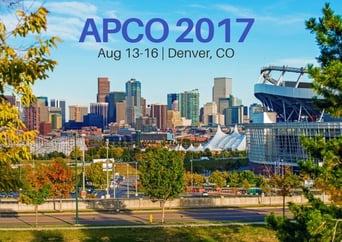 As a proud Colorado native, I thought about all of my friends, co-workers and customers who will be coming to APCO 2017 in August. As a ski patroller (during the winter months), I thought that I should make sure they're prepared. With that being said, if you're a public safety professional headed to the Mile High City of Denver for the APCO 2017 Conference, this blog has everything you must do!
TRAVEL
DIA (Denver International Airport) is actually nowhere close to the Convention Center (

approx 26 miles

away), so you need to plan your transportation accordingly. Rent a car, share a ride with a friend, or plan for a hefty

Uber

or

Lyft

fee. (Yes, we do have Uber in Denver.) We also have our RTD

light-rail

system that operates from DIA to Denver. Keep in mind that the A line frequently seems to be

broken or malfunctioning

, so I wouldn't count on this as a reliable mode of transportation to/from DIA.

Downtown Denver is easy to get around in for the most part. Walking or taking the

free mall ride

is a good way to go. The mall ride runs up and down 16

th

street, and you can get on or off anywhere you choose. It also does connect to many light-rail stations that will take you out of the city.

(A word of caution)

– Downtown Denver is amazing, and as a Colorado native for almost 30 years (wink), I'd advise you to be on guard and pay attention to your surroundings while visiting downtown. We all tend to let our guard down when traveling to a fun place, but I'd hate for any of my fellow public safety professionals to be caught up in something they shouldn't be involved with.
LUBE - Colorado is DRY (very dry)!
Drink plenty of water.

Yes, your body needs lube too. Prevent

altitude sickness

by drinking tons of the stuff. Before you head to Denver, drink extra water. When you're here, keep a bottle with you to sip on throughout the day. You might not feel thirsty, but your body will be. Also, try and stay away from things like alcohol, which can further dehydrate you.

Buy some SPF.

If you are planning on spending any amount of time outside (and I DO highly recommend getting outside) while you're at APCO, buy some SPF 50 sunscreen. You may think you have sun where you are, but remember, you're in the MILE HIGH CITY where the sun is super intense.

Get some chapstick

. Yes, you're going to need it.

Stock up on lotion.

Don't laugh, but you will be applying this stuff like it's honey from the gods of Egypt.
FOOD & FUN
Denver has truly stepped up its game when it comes to food. We are a vibrant city with lots of culture and foodie-approved options. See the previous blog by Ken Carson for food and beverage suggestions. I also suggest walking one of the many

farmers' markets

. There is always something fun and edible at these great CO-proud markets.

If you have time, there are plenty of great places to

visit in Colorado

, such as:

Red Rocks Amphitheatre and Park

Boulder Flatirons & Pearl Street

Estes Park
I could go on and on about Colorado. As you can see, I'm quite passionate about my hometown and state. If you're coming to APCO, stop by and see Xybix at our booth #1124, or better yet, visit us at our headquarters in Denver. We'd love to see you. You can thank me later for all of these helpful tips when I see you at the show!