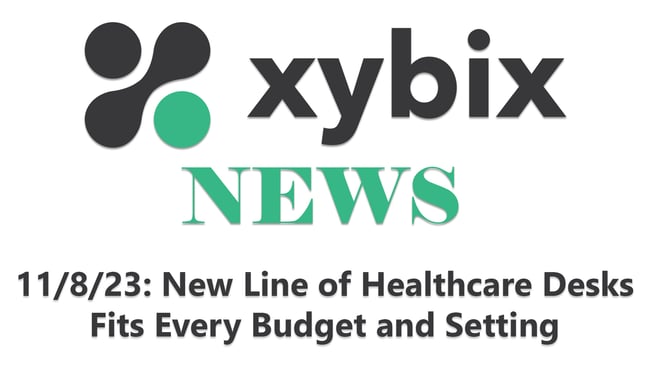 At Xybix, one of our core values is to care for those who serve others. That's why our desks exceed ergonomic standards, why we continue to innovate with new features such as AXYS, and why we developed our new line of healthcare desks. We wanted to expand access to ergonomic sit-to-stand workstations that help prevent musculoskeletal injuries and eyestrain while enhancing productivity and morale.
Desks Designed for Healthcare
Xybix healthcare desks are tailored to the needs of healthcare workers, including those in telemetry and radiology. All Xybix imaging desks feature:
Sit-to-stand flexibility for people of all sizes to prevent the musculoskeletal injuries that frequently contribute to absenteeism and burnout

A proven method for securing and managing expensive monitors

Cable management, USB charging station, and CPU hangers

Optional custom lighting and personal climate controls

An intuitive app, Axys, which allows individuals to save settings and make one-touch adjustments from any device

GREENGUARD Gold certification to promote healthy air
Options for Every Healthcare Setting
The three desks in the new line are differentiated by the level of workstation sharing needed in the healthcare setting, the number of monitors to manage, and the overall usage.
XM8: The top-of-the line healthcare desk features a dual surface, patented Rollervision monitor array for up to 8 monitors, and AXYS support that enables many users to share the desk in a busy hospital.
XM6: The XM6 dual or single-surface desk accommodates 4 monitors and shared use in a clinical environment.
XM4: The fully customizable XM4 features the strength, stability, and price point suited to a home office.
At Xybix, we pride ourselves on our sturdy, durable, and easily adjustable Made in the USA healthcare desks. Plus, our team of design professionals can help with a single workstation or the redesign of an entire department that includes layout, lighting, noise control and storage management. Our aim is to help healthcare organizations care for their own through thoughtful engineering and design.
We plan to release more information on our new desk models over the coming weeks and we will have them available to see and test-drive at RSNA 2023.
If you're attending RSNA 2023, stop by our booth. We're #7933 on Level 3 of the North Hall (See Map Below):