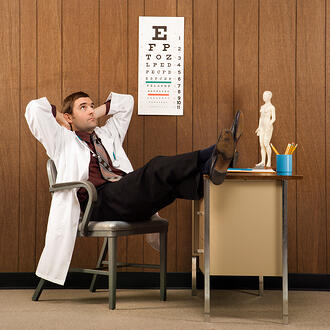 I recently ran into a registered nurse who now works a desk job and sells services nationwide. When I was explaining to him that I worked for a company called Xybix Systems, Inc. that makes height adjustable ergonomic furniture, his eyes lit up and he said, "No way! I just built a homemade, height-adjustable desk myself and even added a treadmill! Here, I have a picture…" Needless to say what I saw, while impressive in a DIY kind of way, it was wrong on multiple levels. As an RN working the ER floor, he gained 60 pounds and struggled with eating right in a nonstop, emotionally taxing environment. He managed to lose the weight and keep it off and has certainly benefited from integrating consistent activity into his new workspace.
While "Mr. DIY RN" deserves props for creativity and taking the initiative to find a solution to a problem that faces a large majority of Americans today, the big question here is how did his previous environment impact not only the numbers he saw on the scale, but also his overall health?
Ever hear that doctors make the worst patients? Nurses, radiologists and medical professionals are responsible for the proper review and diagnosis of others, while often ignoring their own health and wellness in the process. However, our in-house Xybix superheroes found that we could easily integrate the concepts and principles that we employ in 911 dispatch centers into PACS radiology departments. Doctors and radiologists need the best tools available to allow them to make effective and efficient diagnoses, and that includes their medical workstations. The best ones are designed with the following points in mind:
Don't turn out the lights. Radiologists are often in a dark room, bias lighting is key to reading a scan correctly. Indirect lighting helps make viewing a computer more comfortable by reducing eye strain and fatigue and eliminating image contamination due to reflections, haze and other typical computer obstructions.
Simon says... Within the radiology environment, doctors and radiologists are constantly on the move, and oftentimes with little to no time to take a load off. With height-adjustable desks, users have the option of changing their orientation with the push of a button. These workstations also allow for a little added activity to keep those muscles in tip-top shape!
Does that look crooked to you? When sharing a workspace, one of the biggest grievances is monitor arms and the various states you find them in. In the radiology world, time is always of the essence. You don't want to waste it changing, turning and adjusting monitors. With a monitor array such as Xybix's Patented Rollervision, any user can adjust all workstation monitors in one single motion. The ability to move the monitors forward and aft, allows for proper focal depth and range of motion with one "pull" or "push".
"It's gettin' hot in here!" The battle of the sexes at its finest. With user climate controls like MyClimate, each user can adjust heating and cooling levels to individual preferences directly at the station. Radiologists shouldn't have to worry about being comfortable while taking time to evaluate a scan. No more meddling with thermostats and complaints from the staff!
By integrating what we've learned to be effective in a 911 dispatch center, height-adjustable furniture and proper ergonomics can be applicable (and successful) in almost any working environment. Customizable options and flexibility allow us to mitigate and fix challenges faced by 95% of the working world. My "DIY RN" friend certainly was on the right track, and I applaud his success. After all, who wants to take advice from the doctor lying on the table next to you?