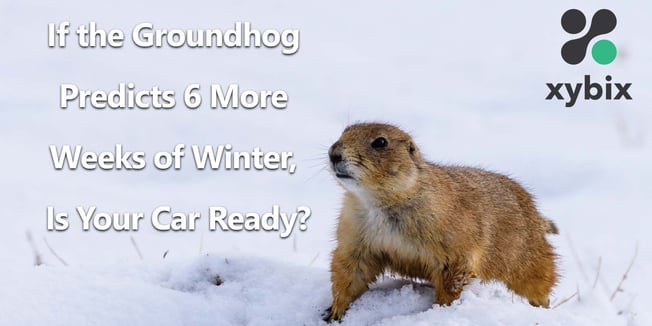 By now, we know that Punxsutawney Phil saw his shadow this morning. What you may not know is that the groundhog's prediction about an early spring or 6 more weeks of winter is only right 39% of the time anyway. In climates with winter, we're likely facing more winter, famous groundhogs notwithstanding. For all you essential workers in dispatch, command & control and healthcare who must get to work, this is a great reminder to keep your car winter ready.
With this year's warmer weather, it's easy to get caught off guard like many of those stuck on I-95 in Virginia in early January. Imagine hundreds of cars with hundreds of drivers and passengers unable to move on 4" of ice in 19° weather for more than 24 hours. All I could think is "What if that was me?" I don't even have a bottle of water in the car much less a blanket or boots.
I'm headed up to Breckenridge this weekend and thought I better get serious about winterizing my car before I leave. I turned to Google for a handy little checklist but I was overwhelmed. If I took on all the winterizing tasks it would be a full-time job, and if I hauled around all the emergency supplies it would require a UHaul. So I compiled my own, real-world list from all the tips I found out there plus my 25ish years of Colorado driving experience. I hope it helps!
Seasonal Maintenance
Before the snow flies in your area—and periodically if you drive a lot—check the following:
Tires: adequate tread or snow tires
Battery: connections and life
Headlight covers: clean
Heater: working
Windshield wipers: winter versions*
Wiper fluid: all-season or winter, extra jug in the car
Brakes: working
Jumper cables: in the car, in good shape
Weekly Maintenance
Even if you're headed out for a short trip, be sure to check on this bare minimum of supplies. You never know when someone has "borrowed" your scraper or left the wiper fluid wanting.
Gas: never below half-tank
Tires: adequate pressure
Wiper fluid: full
Car clearing: snowbrush and ice scraper
Phone: car charger and charging block
Emergency Supplies
Depending on how far you live or stray from civilization, pack of your car with emergency supplies—especially if you're headed out on a road trip.
Water
Non-perishable snacks
Toilet paper
Pet food (as needed)
Extra medication (as needed)
Warm blankets
Extra coat, gloves, hat and boots
LED flashlight
I found plenty of other items you might stuff into your car that might be handy in an emergency. They're a little overkill for me, but here goes: road flares, foldable shovel, kitty litter for traction, tow rope, air compressor, duct tape for repairs, first aid kit, hand warmers, deck of cards or book for something to do, road map and sunglasses for snow glare. Add any items that make sense for your climate and driving pattern.
You can find more great tips here and remember this: Like Groundhog Day, you have to do all this over and over again. Every day, every week, every season!
Be safe!