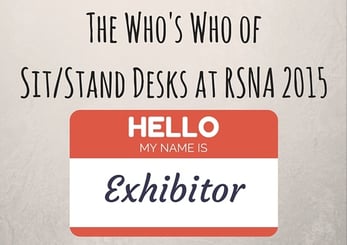 There is no place like the Radiological Society of North America (RSNA) to go shopping for new equipment for your radiology center. Whether you are involved with a huge hospital system or a small reading room, RSNA seems to have it all and then some. You can get hands-on with all of the latest technology to see what it can do to make your life better and improve the results for your patients. One major piece of that puzzle is choosing the best imaging desk for your reading room.
Just about every radiologist in today's world knows that a sit to stand desk is the way to go. The days of working at casework desks mounted to the walls are pretty much gone. Many of you might already have some of the first generation workstations that allow you to stand, but the past few years have seen a big improvement and advancement in the quality and durability of the imaging desks that are available. That being said, here is a quick list of sit to stand desk exhibitors to look for at RSNA.
There you have it! RSNA certainly won't leave you short of options, and with all of the available choices, you'll easily be able to find a sit to stand imaging desk that fits your unique needs.