In the world of dispatch furniture equipment, it's no secret that in Communications Centers the monitors are getting larger and the CPUs are getting smaller. Now it seems like there are endless options for monitor sizes, and that means new ways to configure them as well. If you're brainstorming new ways to improve or change your monitor setup, here are 3 trends that we've noticed in the field:
Bigger is Better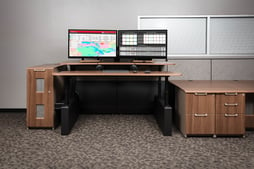 19" monitors are pretty much obsolete in the dispatch world. Many CAD and radio vendors are pushing a minimum of 24" monitors for their equipment. But wait, have you thought about putting a 48" or 50" monitor on your table? We've seen several agencies go this route for one of two reasons: to allow for a bigger mapping screen or to use one monitor with a split screen. Some IT personnel justify that replacing one 48" monitor is cheaper than replacing four 24" monitors and therefore have opted to "go big or go home."
Portrait Style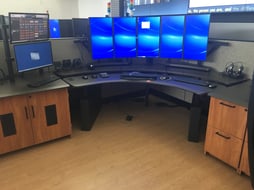 Typically monitors are mounted in the standard landscape position. Recent trends are showing more agencies are turning their monitors from landscape to portrait configuration. City of Chesapeake Police Department went this way because it was easier for their dispatchers to read lists. Other agencies, like those along the Eastern Shore of Maryland, have used this configuration because it better displays the map of the elongated shape of the county. In some instances, going portrait style with your monitors can also save space if you have limited room in your Communication Center.
To Curve or Not to Curve?
Curved monitors are becoming more popular in residential settings and are starting to pop up in dispatch centers, too. If you only have one monitor on your table, this totally makes sense. However, if you have multiple monitors, the "curve appeal" becomes moot. It is more cost effective, and ergonomic, to instead put regular monitors on a curved monitor arc to meet ANSI-HFES monitor viewing angle standards. Also to note is the glare that typically results on a curved monitor in a dark room.
These are 3 popular trends we're seeing in Communication Centers across the country. As you can see, there is no one-size or solution fits all. Hopefully this helps your agency visualize the possibilities and determine what works best for you!