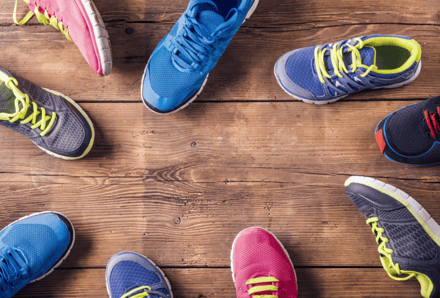 While looking for a comical introduction to this blog, I revved up the Google machine and searched for "funny sneaker", and right away, a "funny sneaker" meme popped up. I figured it couldn't hurt to check it out (even though I had no clue what a meme is), and you could have colored me surprised when Google opened up a whole new world to me: the world of sneakerheads. Yes, ladies and gentlemen, the term "sneakerheads" is a real adjective used to describe collectors of classic "sneaks", or, to further clarify, here's how the literary virtuoso Urban Dictionary puts it:
1. A person who collects limited, rare, OG, or flat out exclusive kicks. Usually the collection consists of Jordans or Dunks.
2. A person with background knowledge of certain sneakers.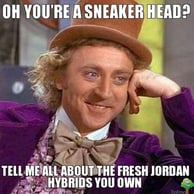 I heard Pumps were coming back? Does that count?
But I digress.

You may have noticed a growing trend in your 911 dispatch center: the reintroduction of sneakers in the workplace. Hopefully they're not the smelly kind, but the presence of these athletic shoes symbolize the fact that many folks are taking their own initiatives for getting healthy in comm centers, many creating intra-office competitions as well as incorporating other opportunities to engage in physical fitness in the workplace. These competitions range from participating in daily calorie intake challenges to seeing who can walk the most steps around a pole in the office, and some employees are even starting to keep free weights at their desks! I love the creativity of customers who don't yet have a treadmill or bike in their dispatch center. This is just one more way to show management how imperative taking healthy steps, literally, is to your daily work-life balance!
With budget season getting ready to hit the ground running (see what I did there?!), many folks will start hearing about "extra" or "excess funds" that need to be used by specific dates. The "use it or lose it" mentality when it comes to county and city-wide funding can often aid in obtaining these ancillary items you didn't think would ever come your way!
With spring/summer in full swing, trade show season is rampant. Take an opportunity to visit your state or local shows, and if you can, check out the national shows that will allow you to demo and explore different healthful opportunities. Come check out Xybix's treadmill and bike demos at the upcoming National NENA Conference in DENVER, CO! We'll be taking advantage of having the event in our backyard by offering facility tours, health accessory demos, access to food trucks, and appearances by cheerleaders and firemen! Wait, cheerleaders and firemen?! Maybe, if we're lucky, they'll bust out the Air Jordans!