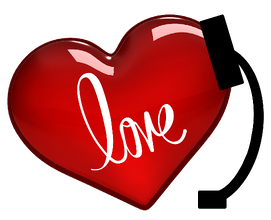 With "love" in the air this Valentine's Day, we thought we could share some ways you can show the "love" to your local 911 dispatchers. Often times, 911 dispatchers are only means of response to a scary and/or life or death situation. A dispatcher's job means responding promptly and professionally to any emergency throughout the year. (Yes, this includes giving up weekends, holidays and birthdays to work a very demanding and stressful job). Still not convinced of the need to say thanks? Try reading the poem "Dispatcher" by Alan Burton.
Show the "Love" with thanks
One way you can "love" your local 911 dispatchers is by thanking them for all the work they do throughout the year. So, how do you "thank" a dispatcher? The second full week of April is dedicated to this exact cause. Patricia Anderson of the Contra Costa County (Calif.) Sheriff's Office launched the week in 1981. By the early 1990s, the national Association of Public-Safety Communications Officials (APCO) convinced Congress to pass a formal proclamation. Rep. Edward J. Markey (D-Mass.) introduced what became H.J. Res. 284 to create "National Public Safety Telecommunicator Week." (NTW)
Ways you can show the love:
Post a banner or sign at your local business
Use social media and give a "shout out" to your local 911 center
Drop off a few handmade goodies (see pinterest for ideas)
Call your local news channel or paper and tell them about the "Telecommunicator Week" see if they'll do a story honoring these everyday heroes.
Take your cause to a local school, have the children make cards or other gifts of appreciation
Are you a comm center manager? Here are some ideas for you to recognize, publicize National Telecommunicators Week
Sharing the love and appreciation for your local 911 dispatchers doesn't have to be hard, make it what you want, the appreciation will be mutual. So, whatever you end up doing this Valentine's Day, we sure hope that you know how much you are "loved" and admired by everyone involved in the public safety community.

Happy Valentines Day!