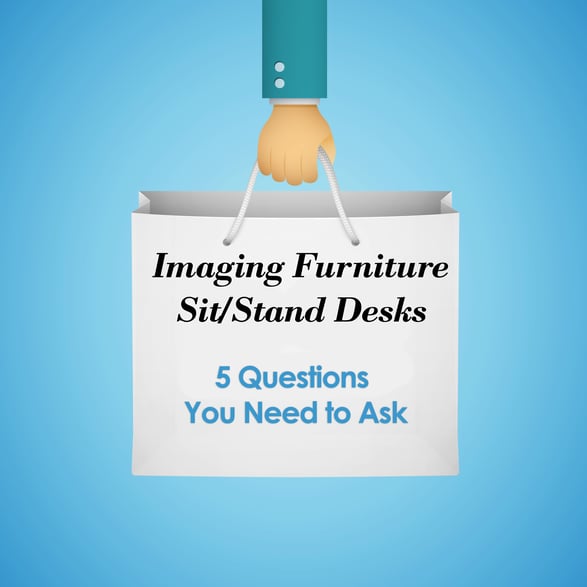 I previously wrote a blog highlighting which companies selling imaging desks will be at RSNA. If you are shopping for a new desk, the following advice should help get you to the right booth without wasting time.
Once you get to the booth and start talking to the helpful (pesky?) salesperson, what are some good questions to ask? If you are like me, you probably think of them after you've already walked away. Fortunately, I have put together some questions that will help you make your best decision.
Ask About Monitor Mounting - One common problem we see occurs when imaging centers upgrade to the larger, heavier 12MP monitors, such as the Barco 12MP; these are about 65 pounds without the base and are just too heavy for a monitor arm. If you have a legacy setup with monitor arms, the doctors are used to moving them back and forth, but they will not be able to do this with the large monitors. There are solutions that will allow you to have the new 12MP monitors as well as keep the great ergonomics with focal depth adjustment. To get the best results, ask how the system-in-question holds a 12MP monitor.


Ask About Ergonomics -

Every company has a station that moves up and down. What you need to know is whether or not the stations can move low enough to fit the shorter doctors, so always

ask the salesperson to run the work surface down as low as it can go. Keep in mind that it needs to get down to 23" from the floor to meet the national ergonomic requirements.


Ask About the Warranty -

The warranties for the different imaging desk suppliers vary greatly, and most warranties in this industry do not cover labor. This means that they will ship you the parts and you have to either fix it yourself or pay for someone to fly out and fix it. Pay attention to the lifetime warranties that deal with the workmanship of the product; these are always followed by a list of exceptions that typically includes the lift columns. This tends to be a bad deal, so this is where you need to get tough and inquire about specifics.

Ask the vendors to explain their warranty in detail. Also, point at the lift columns, and ask them how long the columns are under warranty and if labor is covered. A good warranty vs. a bad warranty can make all of the difference in how happy the doctors are.


Ask About the Installation Process -

This is also very important. Some companies use their own employee-based installation crew while others hire local help. Investing in a poorly-done install is like throwing money away, so

ask if they provide installation.

Yes, some companies will ship the parts to you and expect you to build it, but if they do provide installation, ask about how that usually works.

Is their installation team made up of their own employees, or is local help hired? If it is hired local help, have they ever worked on your product before? Installing imaging desks is not an easy task; they are big and require assembly, and they need to hold all of your equipment. Asking the right questions will provide you with assurance that the installation will be done right and on time.


Ask About the Design Process -

One of the most important aspects of updating your room is getting everything to fit right on the first try. Nothing is worse than buying an expensive imaging desk and discovering that it doesn't fit in your room or that it does not hold your monitors where you want them to be. To avoid these scenarios,

ask the sellers about their design process. Do they have professional designers? Do they have experience in reading rooms? Do they have a sales team that can meet you at your center and measure the room for you?

Have them show you previous designs they have done, as this will give you an idea of how they can help you with your project.
To sum it up, don't be afraid to ask these questions. None are that tough, and a reputable company will be happy to walk you through the specifics of their products. This is the start of your discovery process to find the company that will best serve your needs.