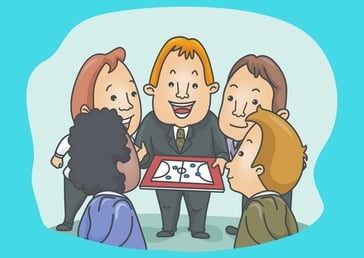 There are many different avenues out there when purchasing your height-adjustable dispatch workstations and dispatch furniture. Some 911 Comm Centers require a three-quote process, others purchase directly off of state contracts, and some "piggy-back" off of open contracts in their states. If your 911 Comm Center chooses or requires a formal bid process, the journey can be more complicated than you expect! You will have to draft up arequest for proposal (RFP), which often has an addendum or two. Then you also have to think about reviewing and scoring the submittals. Then, when the RFP is closed and the vendor is awarded, you might think, "Hooray! We're in the clear!" Let me put the brakes on that dream wagon; there's still some more work to do.
To help you out, here are five tips for life after an RFP that will help create a smooth installation process as well as a lifetime partnership with your furniture vendor:
Put a face to the name. You might have required a pre-bid meeting before the vendor award, but even if you did, it's important to establish a relationship with your dispatch furniture vendor. Once the vendor has been awarded, schedule a meeting with your sales rep ASAP (if they haven't already reached out to you). This meeting should occur within the first seven business days after the award takes place. If you built a new center or renovated the communication room, make sure to set aside time to double check dimensions. During the meeting, make sure all of the critical parties are present. This includes the following:

The person (or people) who will be signing the documents

The person who will be approving drawings/quotes

The person who will be running the technical aspects of the project

The person who will be the point of contact on the day of install

The person who will be releasing the funds

The person who will be the point of contact moving forward

Etc.
Cross the t's and dot the i's. If it wasn't explicit in the proposal, get with your sales rep to find out what the requirements are to get the installation date locked down. Most companies have a standard 8-10 week lead time, and they will often REQUIRE final signatures on drawings and finish selections in addition to a purchase order or intent to purchase.
Get them in the "in crowd." More often than not, the purchasing department doesn't get involved until the last minute. Even if your terms of payment were indicated in the RFP, make sure your sales rep is familiar with the right people in procurement so that they can get all of the documents to them (and vice versa) on time. Learn what your purchasing department will need from the vendor to cut a purchase order or sign an agreement, or get your sales rep the right contact information to find out.
Organization matters. If your project has a lot of moving parts, make sure to get all parties coordinated and introduced. Often the floors or radios are being replaced before or at the same time as the furniture. Make sure your sales rep has all of the contact information to coordinate the install and take into consideration these simultaneous changes.
Consider every possible scenario

.

Make sure you review the installation process. This goes hand-in-hand with your onsite meeting. Even if it was included in your RFP, review HOW you envision the days of installation unfolding. Show your rep where you expect to unload the truck, any elevators that will be used, and the path you have planned for bringing the furniture outside and into your communication room. Talk about trailers, dumpsters, security clearances, and staging areas. Gathering as much information prior to install ensures a quick and painless changeover.
It might seem like you've crossed the finish line when you award your dispatch furniture vendor after an RFP, but there are still critical steps to take before you can rest easy. If you follow these suggestions, you'll not only establish a great line of communication with your new vendor family, but you'll also wrap up the project as strongly and confidently as you started.