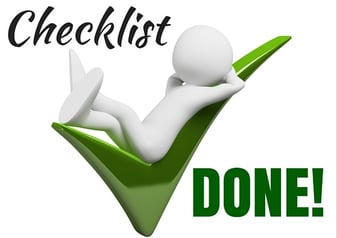 We are living in a fast-paced world these days where we are all in a hurry to get multiple tasks done, and if you're like the rest of us, the thought of having to jump through hoops and over hurdles to cross items off of your to-do list makes you want to cringe. Trust me, I get it!
At Xybix, we understand the importance of making things as fast and efficient as possible for all of our clients. We use two new forms to help us gather all the pertinent dispatch furniture project info and details.
These forms, called the equipment checklist and the project review list, contain vital information to help speed up the design and quoting process. These forms also help our professional interior designers determine what size desk you will need and how to properly design the dispatch consoles to best suit your space. The details provided on the forms are crucial in determining the installation process and ensuring your project is an on-time success.
To give you an idea of what's on the equipment checklist, we'll ask about the following information:
Size and quantity of the monitors at each station
Touch screen monitors (size and brand if known)
How many CPUs, keyboards, and mice you'll need to have on the desk
What radio equipment, printers, desktop phones, etc. we'll need to accommodate for
Any other equipment that needs to have a place allocated on the desk
As you can see, it's pretty simple!
The project review checklist asks for information regarding the room where the furniture will be installed. For example, we will need to know:
The address where the furniture will be installed
The billing address (if different than the one we'll ship to)
The primary contact information (name, phone, email, etc.)
The estimated installation date
Will there be a live cut-over?
If the room will be empty, or if we'll be removing existing furniture
What floor the room is on, and if necessary, whether or not we'll have access to an elevator
If the room is 53' trailer compatible and/or if there is a loading dock
If there is a raised floor or platform in the room
Where the power will be coming from (wall, ceiling, or floor)
It may seem like quite a few details to sort through, but gathering all of this information up front can help shave time off of the entire process. So, when your sales rep starts asking you all of these questions and you find yourself wondering why? This is why! We simply want to make sure that we have done our due diligence so your project will be a complete success.