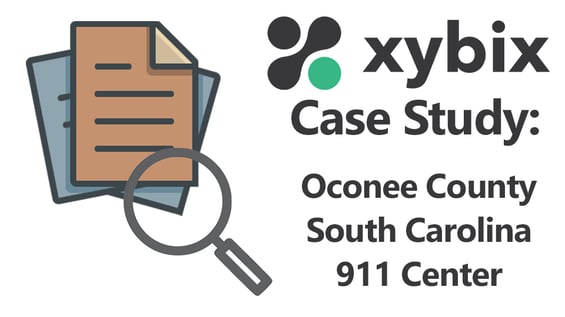 Back in the day, Oconee County dispatchers started off their 12-hour shifts in a gray workspace, wondering whether their old, rickety, uncomfortable consoles would even function that day. Collaboration with Xybix changed all that, creating an open, functional and comfortable workplace that boosts morale and productivity.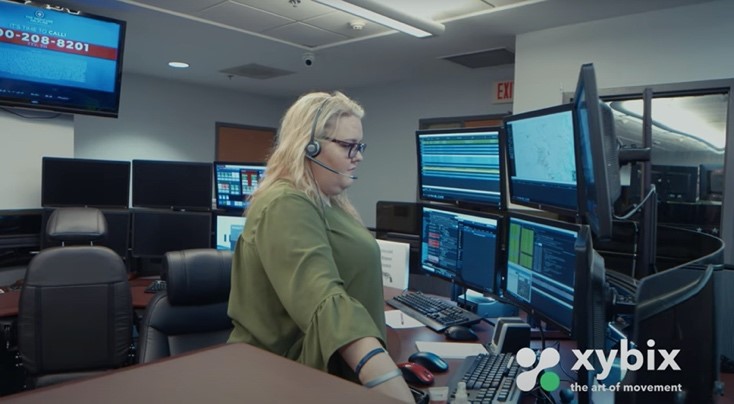 In the Oconee County 911 Center, the durable and ergonomic sit-to-stand consoles help dispatchers stay alert and provide easy access to the tools they need to help save lives.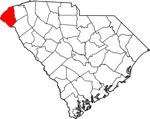 Population: 79,546
Location: Westernmost county in South Carolina
Size: 674 square miles featuring waterfalls, rivers and lakes surrounded by Blue Ridge Mountains and 90,000 acres of protected forests
Vision:
A diverse, growing, safe, vibrant community guided by rural traditions and shaped by natural beauty; where employment, education and recreation offer a rich quality of life for all generations, both today and tomorrow.
Fun Fact: The move Deliverance was filmed in Oconee County
The Challenge. The Director of the Oconee County 911 Center, Travis Tilson, knew that something had to change. While the 911 Center's space was large and had potential to be beautiful, the layout wasn't functional and the consoles were hopelessly outdated and fragile. In terms of workflow, "it felt disconnected and backwards," says Travis, explaining that they had to stand and peer over a wall to communicate. The center's furniture was 20 years old, unreliable and uncomfortable, making it hard for dispatchers to get the job done.
Travis also knew that Oconee County had to take their time and get it right with an investment intended to last 20 years. More than three years ago he started identifying a funding source (a surcharge) and putting a team in place to do the research. That's also when he started talking to us at Xybix about a full remodel of the existing space.
The Goal. The team's goal was to create a more welcoming, functional and comfortable space, and the first priority was durable, maintenance-free consoles that would last 10 to 20 years. (Although Oconee County had bad luck with their previous vendor's furniture, they can expect 12–20 years of life from Xybix consoles.) After that, usability and comfort came into play.
The Process. As Travis explains to Xybix co-owner Kenny Carson, the dispatchers were closely involved in the remodel. They know what they need to make the job easier—they are the ones standing at the ready to save the lives of the 80,000 county residents. Dispatchers started visiting updated centers in nearby counties to really experience the fit and function of the various consoles. As Xybix Southeast Territory Manager, I was to share new features, best practices, workflow tips and more from my years of experience with dispatch centers.
The Solution. When the team started working with us on selections and the layout, they were continually impressed by the Xybix designer's creativity. The designer fit in all the curved consoles and ensured ADA compliance while creating a more unified space. Xybix took into account all aspects of the county's remodel—ceiling, lighting, paint, carpeting—to ensure that everything worked together to achieve a welcoming and productive center. "The design was so meticulous, and we got exactly what was designed," says Travis.
The final project includes the Rollervision system for quickly adjusting multiple monitors, acoustic panels for a 50% reduction in noise pollution and a rotating table in the center that pulls double duty as a convenient spot for resource guides and a breakroom table. "This was not an out-of-the-box solution," enthused Travis, "but purposely designed for us." I walk you through the final space in this video.
The Surprises. Throughout the process, Travis admits they discovered features they didn't know they needed "but now can't live without." Once the team realized IT people no longer need to crawl around behind desks thanks to the availability of full-tech towers with front and side access and built-in fans, that became a non-negotiable. Likewise, they were surprised to find that personalized temperature and lighting controls went from the nice column to the need column. After all, "10 people will never agree on temperature," notes Travis.
A Phased Installation. "The install was perfect because the plan was perfect," says Travis of the live cutover. The internal team worked with Xybix and other vendors to complete the entire remodel in two phases so the center was never down.
The Result. "Personal comfort—being comfortable at work—is the No. 1 morale booster you can give anyone," says Travis, noting that it's especially important for those working 12-hour shifts. Beyond the smiles on their faces, long-serving employees of the department shared their appreciation of the new consoles for both comfort and productivity.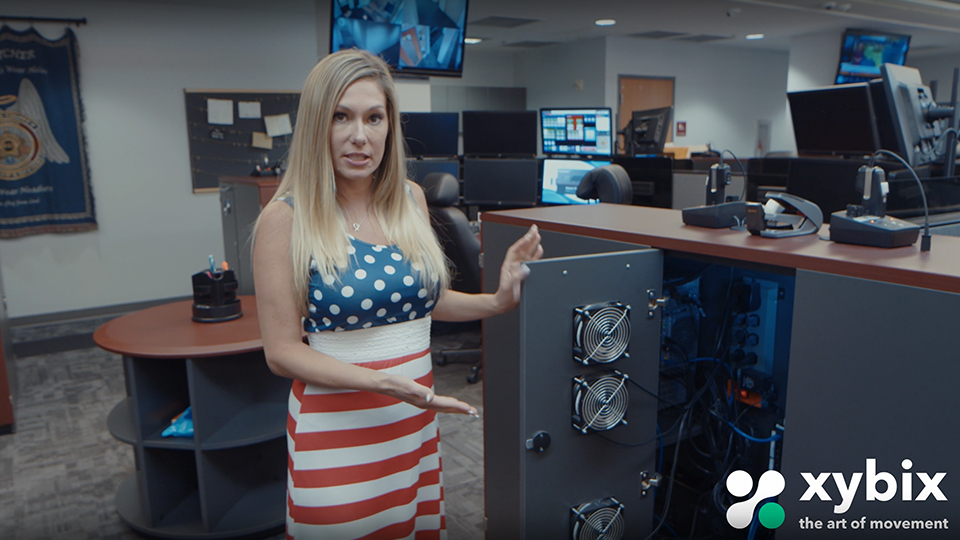 Katie, with 13 years' experience, claimed the console feels like a "Rolls Royce compared to the Pintos we used to drive." She particularly likes the ability to stand and stretch her bad back and adjust the monitors just right for her vision to prevent headaches. Dakota, with three years' experience, notes that when "you get sleepy and off your game," you can stand for a while, and she appreciates that the Xybix consoles accommodate everyone in the office, whose heights range from 4' to 6'3". Terri gives the "absolutely amazing furniture" a 10 rating for the sit-to-stand option, personal climate controls and monitor adjustments while Caitlin claims it's just "the best thing ever" for comfort.
Oconee County fully expects a 20-year return on the investment in their center—and their people—as they enjoy their newfound reliability and comfort.
Want to Learn More? Xybix 1-Minute Quick Takes translate console features into solutions for your center: