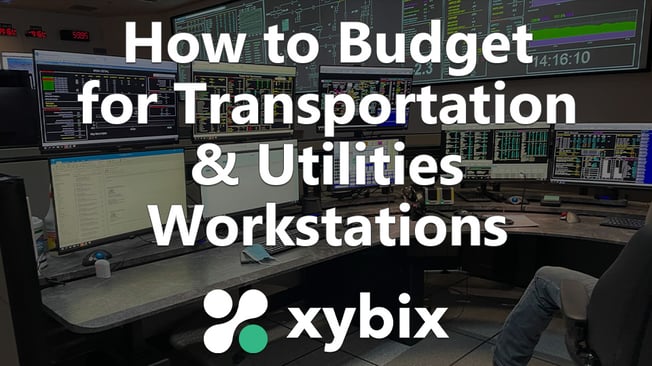 Control rooms for transportation and utilities see 24/7/365 use, contain a massive amount of technology, and host employees in charge of functions that are critical to all our daily lives. As a result, these rooms need specialized workstations that are highly functional, comfortable, and built to last. These projects generally require a capital expenditure, which requires a budget request—and approval.
Getting a budget approved is something of an art form. If you don't budget enough, you may not be able to get all of the features you want. If you ask for too much, you may not get the project approved. For a transportation and utilities control center renovation, give yourself about a year to research, decide exactly what you want, and get detailed quotes and renderings. When you're ready to present the numbers, you'll want to be thoroughly prepared to explain how this investment benefits your employees and, ultimately, your customers and community. Read on for a few tips on justifying your choices.
Typical Price Range
Compared to office furniture from IKEA or Staples, the cost of control center workstations may shock you. But flimsy furniture does not hold up to perpetual use, loads of heavy equipment, and employees involved in mission-critical work. These types of workstations range from as low as $18K up to $40K depending on a wide range of features, sizes, and customizations.
For a complete and accurate quote, make sure all services and options are included, including delivery and installation. Getting approval on a quote for just the consoles could leave you short when the time comes to purchase. Some services, such as design, may be included in the cost, so you'll have to watch for that when comparing prices. Line items in the quote may include:
Workstations

Customizations

Monitor arms

Climate control

Task lighting

Finishes

Privacy/acoustic panels

Design services

Delivery

Installation
The Right Tool for the Job
Control center workstations must be designed for the people, equipment, and activities involved—essentially, they are the right tool for the job. Workstations need to be highly adjustable to meet ergonomic standards for all users, and ease of use is important for quick adjustments at shift change. To allow employees to move throughout a shift, sit-to-stand desks are becoming the industry norm. Studies clearly show links between standing part of the day and improvements in health and productivity.
Finally, the workstations must accommodate the footprint and weight of multiple monitors and computers—8 monitors and 4 computers would not be uncommon—along with keyboards, mice, phones, and more. Monitors are getting bigger and less expensive all the time, so you might select workstations that allow for additional screens.
Durability
The ability to withstand 24/7 use, rotating users, and bulky equipment is a key component in justifying the cost. The truth is, we all want value when we make a purchase—but value is different from cost. Durable furniture that is designed to last will provide you and your stakeholders with the best value.
Warranty for 24/7 Use
None of the typical office furniture companies will warranty their products for 24/7 use. Control center furniture solutions will come with a warranty but the terms can vary. Consider the value of a good warranty and strong customer service as you review costs. Preventing downtime can be invaluable.
When it comes to budgeting, don't be afraid to reach out to furniture solution companies for help. At Xybix, we're committed to providing transparent quotes, a clear warranty, and excellent service. We're always eager to share the benefits of our durable, ergonomic, innovative, sit-stand workstations. In addition, Xybix partners with many local, state, and federal government entities to help you save time and money on furniture solutions.