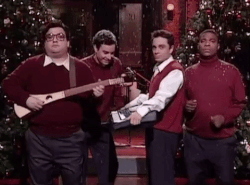 With the holidays coming right around the corner, many 911 Comm Centers are experiencing increased call volume, and because of this, you may not have any creative juices left over to boost morale in your center. So, to help you out, I conducted a phone interview with Tammy Price, Chief of Baltimore County 911 Center, to discuss some ideas on how to ramp up morale that actually work in the real world. She is no stranger to cool and fun ideas. In fact, she has given presentations on how to boost morale in Comm Centers three times at various APCO/NENA conferences.
At Baltimore County 911, they've done many different things to help raise spirits. Let's first talk about the fun activities:
Ugly Sweater Party
This one is self-explanatory. Anyone participating is invited to come to work dressed up in their ugliest sweater. An email blast is sent out a couple of weeks ahead of time to alert everyone of the day and time they will be presenting everyone's ugly sweaters and voting on the ugliest one! People get creative and shop at Goodwill or thrift stores for ugly finds, or crafty dispatchers will even decorate their sweaters in the ugliest manner possible. Managers and supervisors will often chip in for a prize that they deem suitable. This was SO popular that one shift asked for a "Christmas in July" so they could play twice.
Secret Santa
This game is great for small or large centers. Everyone who wants to participate will draw a name out of a bowl, and they will keep who their gift recipient is a secret until the day of the exchange. Often they put a cap on the gift amount ($10-$20). You can make this game even more creative by having silly rules, such as that the gifts must start with the letter "B." The presentation of the gifts can make this game even more fun. For example, a dispatcher who buys a $20 gift card to an ice cream parlor can present it in a nice bowl with a fancy spoon.
Trivia Contest
This is a great game to play while on the job. It can take several hours depending on how busy you are and also on the questions you create. Typically, a shift supervisor (or anyone who wants to be Regis) will create a series of holiday-based questions. Depending on the size of your center, this can be played in teams or individually. Whether you want questions about naming a famous holiday tune or the history of how a tradition was started, you can find extensive lists of holiday questions online to use as inspiration.
Gift Exchange
This game is also commonly known as the "White Elephant" gift exchange. The execution is almost more fun than the gifts themselves! It is recommended that at least 10 people participate in order to make this fun, and she also suggests setting a gift price cap at around $15. The first year they organized a gift exchange, only 10 people played. The next year, 20 people wanted to participate. By the third year, Chief Price said people were coming in on their DAY OFF to play.
Here's a quick review of the rules:
Everyone brings in a WRAPPED gift. A table is set up as centrally located as possible so that everyone can see the options.

Everyone playing draws a number to determine the order.

The first player goes up to the table, selects a gift, and opens it. It's VERY important for the player to walk around the room and show off the gift. This creates a lot of hype, and those who aren't playing can stay interested and involved as well.

Next, Player 2 steps up and can decide if he/she wants to STEAL the gift from Player 1 or open up another gift on the table. Now it's getting good! This step continues for the rest of the game.
As a general rule, a gift can only get stolen three times before it's "retired" from the game. This game can take several hours to play due to calls and different people stealing gift items. Even if telecommunicators don't bring in a gift and play, it's still fun for everyone to see who stole what.
Let's Talk About Food
Outside of games, you can never go wrong with food. Here are some fun things the Baltimore County 911 team has done outside of the standard potluck party:
Catering

--Sometimes you don't want to do any work, and that's OK. Contact a local restaurant or catering company, and for $10-$15 per person, have food delivered to your center for a holiday feast!

Breakfast all month

--Another idea is breakfast all month. Set up a signup sheet, and and have everyone volunteer to bring in breakfast every day of the month. At Baltimore County 911 they've seen food range from homemade breakfast quiches to doughnuts, so there's no pressure to show off your cooking skills.

Salad day

--Much like a potluck, have your team pick a specific dish to make, and everyone can share in the responsibility of bringing in the ingredients. For example, on a salad day, everyone who signs up will bring in their ingredient, whether it's lettuce, spinach, dressing, etc.

911 center cookbook

--This requires a little more effort, but it is a great way to bring your team together and also get some recognition. Anyone who has a special recipe will submit it to the manager or a supervisor. This could be a dish that a dispatcher has brought in for the center in the past, or it could just be a beloved family recipe. Chief Price contacts a company to put the recipes together in a spiral-bound booklet, and she makes sure to include two indexes: one by title of food item and one by name of the chef. In her words, "There is something about seeing your name in print" Depending on where you get the cookbooks made, they cost about $20 each and can make great gift items too!
Boost That Morale!
Whether your center has two people on shift or many more, it's important to make your dispatchers feel appreciated during the holidays, as stress can be at an all-time high. All of these examples are things Chief Price has tried and found to be successful with her team. During our interview, she commented, "You have to know your people, and tweak things sometimes to get it right. The dollar store is your friend!" Hopefully you can take one or all of these ideas to do something different this year to boost everyone's spirits!