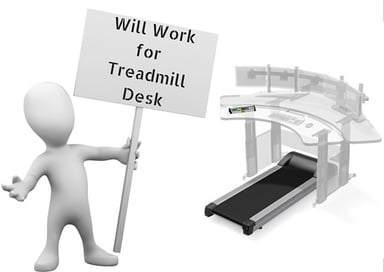 I am new to this industry, and I keep hearing all of the buzz about being able to stand up while working. I have even heard that sitting is the new smoking (very interesting)! I hear people at tradeshows tell me how interested they are in adding a treadmill desks or bikes desks to their current configurations, but they don't think they will get approved due to the lack of funds (which is understandable), the potential for falls and accidents, or the possibility that the exercise equipment will sit in the corner and collect dust. All of these are valid reasons for one to be hesitant, but let's just say that after my very brief search on the internet, I am now able to inform you about a few benefits that can occur when you add these amazing tools to your office.
The first, and I believe the most important perk, is that you can get up and get moving! Other benefits include:
increased creativity

amplified productivity

assistance in lowering stress

possibility for lowered blood pressure

help in reducing the risk of type-2 diabetes
I have the pleasure of talking and listening to the desires of many employees I meet at tradeshows and Comm Centers. Most of you are begging for the opportunity to have one of these placed in your center. My advice to you is to keep asking! The advantages I listed above are only a few that you will benefit from. If a supervisor is worried about the equipment collecting dust, make a competition out of it. You could have a lot of fun challenging each other and the supervisors as well!
If everyone in the center spent at least one hour per day on the treadmill or bike, imagine how creative and productive you would all be! Isn't that what the supervisors really want? Also think about how much better you will feel! If you ask me, it would be well worth the investment.