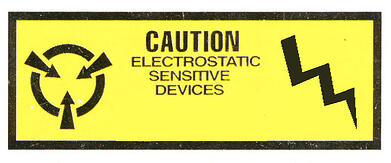 Are you protected against static interference in your 911 dispatch center? Imagine being on a call giving life-saving instructions to a frantic mother administering CPR to her child who has stopped breathing. Now, imagine if a static charge from unprotected flooring caused an equipment malfunction, and the call center experienced a shutdown, losing computer and phone service. Although this scenario is over-exaggerated, if your dispatch center doesn't have static-free flooring, you could find yourself in a similar situation.
Electrostatic discharge (ESD) occurs when two differently-charged objects are brought into contact and then separated, causing a buildup of static electricity. This phenomenon is known as tribocharging, and while it's not predictable, it is fairly common. Moving a comb through your hair, walking on a rug or rubbing a balloon against a sweater can all result in tribocharging, potentially leading to an ESD event.
Maintaining a static-free facility is crucial in mission-critical environments to avoid risks such as equipment failures or shutdowns that could have catastrophic consequences, like in the scenario mentioned above.
With that in mind, here are a few things to take into account when deciding which flooring options best suit the needs of emergency operation and 911 call centers:
Floor Replacement
Floor Maintenance
Odor
Installation
Cost
Life Cycle
Noise Mitigation
When selecting flooring for your facility, due-diligence is vital. Each communication center will have a unique set of requirements and circumstances to overcome. Based on information provided from various flooring vendors, here are a few options that will help ensure a static-free dispatch center:
Carpet Tile
Vinyl Tile
Rubber Flooring
Epoxy Coating
In addition there are many options available for raised flooring, which alleviates other safety concerns, as well, such as exposed power and cable wires at workstations. Mark Hulland, vice president at NetfloorUSA, a Xybix partner, stated, "911 directors and dispatchers don't have time to waste running power, voice and data cables; they're too busy saving lives. A low-profile, cable-management access floor simplifies operations in a dynamic environment, allowing professional emergency workers to get back to their mission faster and more effectively."
With all the options available, finding a solution that works best for your facility should be simple. We recommend working with a professional flooring expert to ensure that you receive all the vital information when making this important decision. When it comes to the flooring of your facility, you should take a proactive approach — not a reactive one.