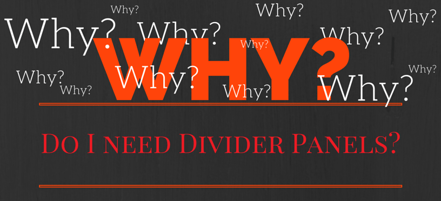 A question frequently asked is, "why do I need divider panels in my comm center?" and "what's the value of having fabric on them?" Well, I'd like to help clarify what exactly a divider panel is and give a fun example of how sound can influence your conversations and why it should be important to you.
Divider panels in an office environment are primarily designed to help dampen noise as it is reflected around a room. When people use the radios, phones or talk they project noise which can be a distraction to you if you are quietly working away at your position or workstation. Often times, you'll not even notice acoustic sound barriers, yet they play in import role.
What is the role of Divider Panels?
The Obvious; a clear separation of functions (call takers, dispatchers, and supervisors)

Code Compliance; defines the emergency egress routes, ADA, and fire codes

Serves as the framework for hanging acoustical (sound absorbent) tiles:

Manage the sound of a room - voices, noises, etc. that might
reflect around the room

Choose from .50 or .75 Noise Reduction Coefficient (NRC)
Real Life Example of How Noise Can Effect You
The next time you get into your car, ask yourself if you'd like to have that important conversation with your significant other in a car with no insulation or sound absorption. Can you imagine? The noise would create shouting...and that's not conducive to anything positive! If you have kids causing chaos, you've probably even said it, "Don't make me turn this car around!"
When evaluating the need for acoustic divider panels in your Comm Center, take into consideration how much value they can add to your organization's communication.