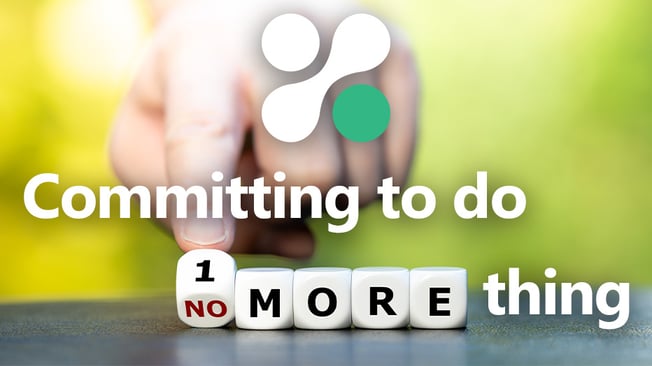 First, let me say Happy New Year along with a heartfelt Thank You to our loyal customers and our prospective customers. I'm honored that we're able to make your challenging jobs in dispatch, healthcare, operations and other 24/7 mission-critical functions just a little bit easier.
As we head into the New Year and everyone talks about resolutions, I want to share a little advice. I'm not a fitness expert or a productivity expert. But as a husband, father, son, sales professional and part-time actor, I do consider myself an expert at building a happy, healthy and productive life. Here's my common-sense advice to improving your life:
Commit to doing one more thing a day.
Do one more thing each day that improves your physical, social or emotional life—something that makes you feel good. Maybe you'll build a habit, and maybe you'll want do more. Unlike a massive resolution such as "organize the entire house" or "run two miles every day," this approach brings little bursts of success that inspire me. I'm a list maker, so I made a list of opportunities that includes:
I know I can't commit to doing all these things every day, but I can commit to doing one more thing from my list. I encourage you to make a list that suits your needs and preferences. Maybe you need to check your bank account more regularly to get a handle on spending, give yourself permission to read for 30 minutes each day or network with colleagues to enhance your career. With my "one more thing" philosophy, I hope 2023 is the year we can all avoid Quitters Day!
Happy New Year!
P.S. I must remind you to use all the features of your Xybix workstation that promote both health and productivity, including alternating between sitting and standing with your desktop at just the right height for you, adjusting your screens to the proper viewing depth and angle, and taking advantage of any personal lighting and climate adjustments you have.