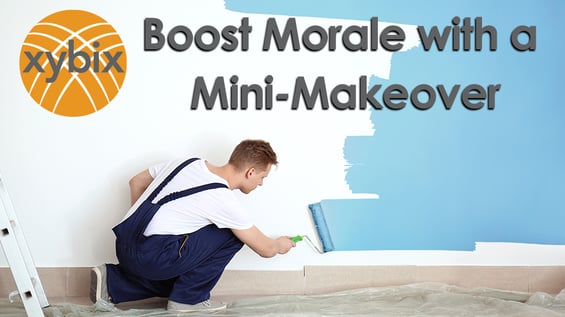 Pop quiz: What are McDonald's colors? Red and yellow. Two colors that just happen to increase appetite. Plus, yellow makes us happy. What franchisee doesn't want hungry and happy humans ready to order up Big Macs and Happy Meals? Like Mickey D's, we all can benefit from applying a little color psychology to our surroundings.
Let's step out of the fast-food analogy and look at how these principals are used in professional interior design. Designers think beyond primary colors and consider the full spectrum of hues (all the fabulous shades of those colors). Various hues can provide a different atmosphere to a space—think about the different feel of a room in sage green, Kelly green and mint green, for example. The key is to select colors that reflect the moment in time and the atmosphere of the workplace without becoming dated.
In the design world, we know that color and design trends change through the decade. Given that dispatch, command & control, and healthcare consoles tend to outlast design trends, the room may look tired but the desks are still going strong. If you're not ready to invest in a full remodel, you can find the resources to refresh the space—especially if the next remodel is 5+ years out. With a few thoughtful color changes, you can boost the mood and productivity of your team while creating a look that lasts.
Create a Mood with Color
First, let's review the feelings evoked by various colors you might use in a workplace. Any color in the right hue can change the feel of your space. Neutral tones will be your essentials and bold/primary tones can be added to enhance these bases.
Neutral tones:
Brown: Strong, professional, earthy, reliable
Grey: Solid, calming, formal, practical
White: Bright, clean, open
Bold/primary tones:
Red: Energetic, competitive, important, hungry
Green: Creative, hopeful, harmonious, natural, growing, prosperous
Blue: Trustworthy, inviting, loyal, stable, tranquil, focused
Yellow: Cheery, optimistic, attentive, innovative, young, hungry
Orange: Playful, energetic, warm
You can approach color selections for an office refresh in a couple ways. First, let's look at the power of neutral tones with bold/primary tones incorporated. It is a growing trend to go with a neutral tone throughout the space wall to wall. This does not mean that you have to get rid of color all together. When selecting a paint, pick a color you would like to see (such as green) and then choose a hue with a neutral base (such as sage). Those paint chips at the store will be super helpful with this. This will make your space feel comfortable, warm and inviting.

Another way to approach color selection is to embrace contrasting colors and add a pop of color. You'll likely leave the neutral background color, or alter it slightly and add an accent color or two. "Greige," gray or beige, offers a great base that can keep up with changing trends.

Your primary accent color should send the right message—blue for focus, red for energy, for example. What should the energy of the space be? Geared toward calm and focus or centered on collaboration and enthusiasm? Neutral blue tones are known to enhance focus and promote a calm environment. If you're looking for a little more energy, a gray base with a yellow accent wall is a trendy way to create this atmosphere.

If you want a second accent color, consider the tried-and-true trick of selecting complementary colors, which are opposite each other on the color wheel. Whatever you choose, we advise against black if you're looking to boost morale.

Rock the Refresh

With a new color palette in mind, take a fresh look at your space. Work from the outside in, considering the walls, windows and carpets then the break room, conference room and individual workstations. You may spot everything from threadbare carpet that is unsafe to piles of paper that can be recycled to walls that might simply benefit from a pop of color.

As you list everything you'd like to change, remember the goal of this mini-makeover is to boost morale. You know how satisfying it is to come home to a clean house, so don't discount simply walking through the office and throwing away dead plants and last year's Realtor calendars. Then, bring on the color! Consider the following:

Paint:

Paint one wall, the doors or the room trim to refresh the space for maximum impact with minimal disruption, time and money. Reimagine the break room as an oasis with a green wall, plants and green teas on hand, for example.

Window Treatments:

Replace worn or dated window treatments to update the look while adding light and temperature control. Maybe you use top-down shades that employees can lower to control light but still enjoy their mountain views.

Panel Systems:

Swap out the fabric in your panels! You can easily achieve a complete new look while reusing the expensive metal bases. Think about adding or removing panel systems in areas to create privacy or open communication.

Carpeting

: Tear out old carpet, especially if it's peeling up and creating trip hazards. While this is not an opportunity to get creative—carpet in a dispatch, command & control, or healthcare environment is utilitarian in its very nature—you can gain comfort, noise control and a clean new look with fresh flooring.

Accessories:

Work your accent color in with accessories—plants, artwork, giant pillows, fun chairs, candy dishes, coffee mugs and more. This is the fun and creative part, and the easiest part to do on a budget at Dollar Tree, Target or TJ Maxx. Perk up a gray room with the simple addition of green trim, aloe vera plants, green coffee mugs and artwork in a complementary purple, for example.
Still not convinced? Every year, Pantone names a color of the year that both follows and influences consumer and societal trends. With everything happening in 2021, Pantone opted for two colors to capture our moods: a neutral gray and a bright yellow. The practical gray offers stability while the sunny yellow promotes optimism—both ideal for bringing us out of a pandemic.
Make It Happen
If anyone deserves a morale boost, it's all of you. You've been going into work, keeping us all safe and healthy, while everyone else is home banging on laptops in jammies. You deserve a nice space to be. Make a solid plan—with specs, a budget and timeframe—to make this mini-makeover happen.
If you've worked with a Xybix designer in the past, feel free to reach out, send pictures and ask for advice. We're always happy to help!